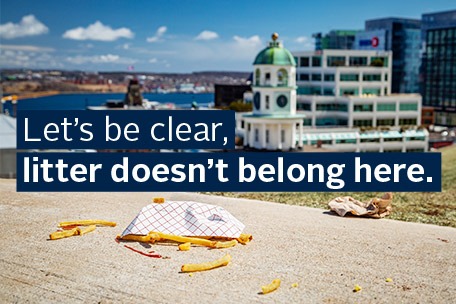 Everyone knows they shouldn't litter, but there are still some who ignore the message or overlook the impact of what may seem like small or unnoticeable actions.
Litter accumulates. It's ugly. The culmination of small transgressions by litterers – even those that happen by accident – looks bad in our community. One piece of litter turns to two, then three, and more. We are each responsible to stop litter before it starts.
The only place litter belongs is in a garbage can, organics or recycling bin. If there isn't a bin close by, take it with you. Don't leave it for another person (or animal) to pick up.
How to get involved
If you would like to help clean-up litter in your neighbourhood, there are a few programs that can help your efforts. All you have to do is select an area you would like to clean, gather a group of people (friends, family, coworkers, schoolmates, etc.) and register with one of the programs below.
You will be provided with a free kit that includes an information booklet, safety tips, advertising posters, garbage and recycling bags, and a data card to track of what types of litter you find. Groups who wish to conduct a one-time clean-up of a secondary highway may also request use of safety vests when calling to arrange collection of bagged waste.
The Great Nova Scotia Pick-Me-Up
New in 2019, The Great Nova Scotia Pick-Me-Up is coordinated by the Nova Scotia Adopt-A-Highway program and supported in part by the municipality. 
Pick-Me-Up programs usually take place in spring, however, any time of year is a good time. Litter is a problem that needs our attention year-round.
Adopt-A-Highway
Adopt-A-Highway groups commit to cleaning a five km section of secondary highway or a 100 series highway interchange/exit, twice per year. Groups must be registered with the program and have the chosen section approved. 
How to dispose of the litter you collect
Garbage and recycling can be disposed of by dividing it between participants and placing it curbside with your household waste. This material will count towards the current limit 6 garbage bags per single unit household and sorting rules still apply. There is no limit for the amount of recyclables you can put out for collection.
Call 311 two weeks prior to your event to arrange for onsite collection of bagged waste by municipal staff.
Email wasteless@halifax.ca if you would prefer to deliver collected garbage directly to the Otter Lake Waste Facility. If your event is registered in the Pick-Me-Up program, your tipping fees will be waived.