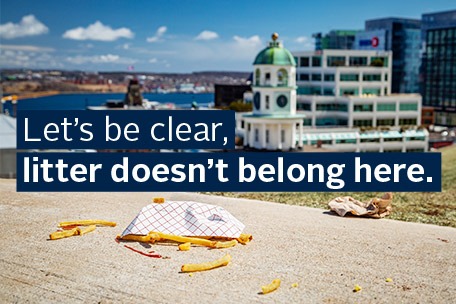 Everyone knows they shouldn't litter, but there are still some who ignore the message or overlook the impact of what may seem like small or unnoticeable actions.
Litter accumulates. It's ugly. The culmination of small transgressions by litterers – even those that happen by accident – looks bad in our community. One piece of litter turns to two, then three, and more. We are each responsible to stop litter before it starts.
The only place litter belongs is in a garbage can, organics or recycling bin. If there isn't a bin close by, take it with you. Don't leave it for another person (or animal) to pick up.
The Great Nova Scotia Pick-Me-Up
How to get involved
If you would like to help clean-up litter in your neighbourhood, all you have to do is select an area you would like to clean, gather a group of people (friends, family, coworkers, schoolmates, etc.) and register. 
The Great Nova Scotia Pick-Me-Up is coordinated by the Nova Scotia Adopt-A-Highway program and supported in part by the municipality. Groups who register for the Great NS Pick Me Up will be provided with a free kit that includes clear garbage bags, blue recycling bags, and a select number of nitrile gloves. A leaflet outlining disposal procedures is also included in the kit. 
Kits have been pre-packaged and can be picked up Monday to Friday (with the exception of Holidays) between 8:30 a.m. and 4:30 p.m. at one of HRM's Customer Service Centres.
Before your event, please review the COVID-19 safety precautions to help keep community volunteers safe and healthy during community clean ups.
Registration for the 2021 Great Nova Scotia Pick Me Up is now open.
How to dispose of the litter you collect
Garbage and recycling can be disposed of by dividing it between participants and placing it curbside with your household waste. This material will count towards the limit of 6 garbage bags per single unit household and sorting rules still apply. There is no limit for the amount of recyclables you can put out for collection.
Participants may also deliver collected garbage directly to the Otter Lake Waste Facility. If your event is registered in the Pick-Me-Up program, your tipping fees will be waived. Please email Solid Waste staff at wasteless@halifax.ca two weeks prior to your event to make drop off arrangements.
If neither of these options can be accommodated by your group, please contact 3-1-1 two weeks prior to your event to arrange collection by HRM staff.
Let's be clear. Litter doesn't belong here.