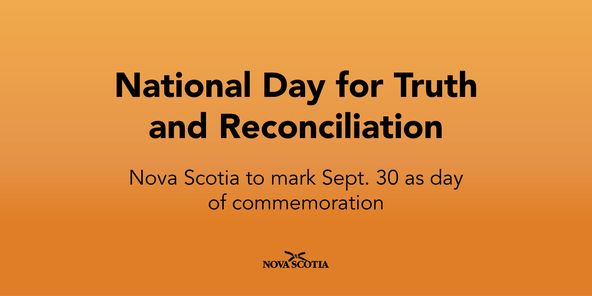 In its commitment to reconciliation and ensuring that the tragic history and ongoing legacy of residential schools is never forgotten, the Government of Canada recently passed legislation to make September 30 a federal statutory holiday called the National Day for Truth and Reconciliation.  
Formerly known as Orange Shirt Day, this day provides an opportunity to recognize and commemorate the legacy of residential schools and provides a day of quiet reflection or participation in a community event. Read the Mayor's proclamation.
Ceremonies and Events 
September 29 | City Hall will be illuminated in orange to commemorate the inaugural National Day for truth and reconciliation.
September 30 | Flag raising ceremony taking place at Grand Parade at 5:30 p.m., featuring words from Shubenacadie Residential School survivor Alan Knockwood and Landyn Toney (Journey of Awareness), a Mi'kmaw youth that walked from his home in Valley, Colchester County to his home reserve of Annapolis Valley First Nation to raise awareness for the residential school students who never made it home. Following the flag raising, enjoy a Patio Lanterns Grand Oasis Stage concert featuring Indigenous performers. 
Weekend of Reconciliation on the Waterfront events, hosted by the Mi'kmaw Native Friendship Centre. Events include:
Orange Shirt Day
September 30 | 10 a.m. – 3 p.m.
Opening Prayer/song
Welcome Remarks/History of Orange Shirt Day
Painting craft on Orange Shirts
Treaty Day
October 1 |10 a.m. – 3 p.m.
Opening Prayer/song /remarks
Traditional Salmon Dinner – (First come first served to 500)
Welcome/History of Treaties in Mi'kma'ki
Live Entertainment – Videos played throughout the day on treaty conflicts in Mi'kma'ki
Family Day
October 2 | 12 p.m. – 3 p.m.
Opening Prayer/song/remarks
Open Mic for Artists
Crafts for Children
Indigenous Music & pow wow dance demonstration
The National Centre for Truth and Reconciliation will be hosting multiple virtual events happening from September 27 to October 1. 
Resources
Read the Truth and Reconciliation Commission's Final Report and think about how you can implement the Calls to Action in your own life.
Read Out of the Depths: The experiences of Mi'kmaw children at the Indian Residential School at Shubenacadie, Nova Scotia by Isabelle Knockwood, and other memoirs by survivors.
Watch We Were Children (available on Amazon Prime) and Indian Horse (available on Netflix).
Watch Gord Downie's Secret Path.
Learn about the Mi'kmaw communities whose land you live on and visit the three First Nations in Halifax Regional Municipality.
Visit Indigenous cultural heritage sites to learn about the traditions, culture, and resilience of your local communities.
Visit the Mi'kmaw Native Friendship Centre, and Peace and Friendship Park in Halifax.
Have conversations with the people in your life about what reconciliation means and why it's important.
Support Indigenous artists, drummers, singers, dancers, language learners and small business owners. They are helping communities heal.

Learn how to pronounce National Day for Truth and Reconciliation in Mi'kmaw.
Pronunciation tutorial | National Day for Truth and Reconciliation