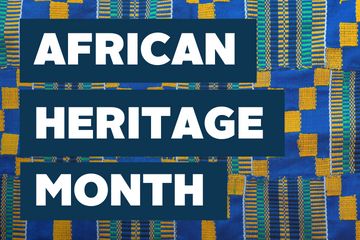 African Heritage Month
This year's theme, 'Seas of Struggle: African Peoples from Shore to Shore,' recognizes the struggles people of African Descent face from the shores of Africa to the shores of Nova Scotia. The Atlantic Ocean has played a vital role in African Nova Scotian history, whether it be West Africans transported to Nova Scotia as enslaved peoples; the historical migrations of Black Loyalists, Jamaican Maroons, War of 1812 Refugees, and Caribbean migrants; the exodus of African Nova Scotians to Freetown, Sierra Leone; or the travels of people of African descent who continue to call Nova Scotia home. This theme explores the struggle and adversity that was overcome by people of African descent in Nova Scotia and across the African Diaspora. 
Celebrate the rich culture of people of African descent by participating in this year's events and activities:
Provincial Launch
January 23, 2023 | 10 a.m.
Watch the livestream on YouTube.
Municipal Opening Night
January 26, 2023 | 6:30 to 8:30 p.m.
North Branch Library or watch the livestream on YouTube.
In partnership with the Halifax Public Libraries and the African History Month Association, and with support and funding from Support4Culture, the Office of Diversity & Inclusion/ANSAIO welcomes residents to kick-off African Heritage Month at the North Branch Library, as Opening Night returns to an in-person format this year. Enjoy musical performances by Jah'Mila and Marko Simmonds, special words from the Africville Genealogy Society on their 40th anniversary, and a proclamation reading by Mayor Savage.  
Flag Raising
January 30, 2023 | 9:30 a.m.
Grand Parade Square and Halifax Hall
Attend an African Heritage Month flag raising and a special performance by Owen Lee at Grande Parade (weather permitting) before moving indoors to Halifax Hall for a proclamation reading by Deputy Mayor Austin and light refreshments.
City Hall Lit in Pan-African Colours
January 23 - 27, 2023  |  February 18 - 21, 2023  |  February 23 - 28, 2023 .
City Hall will be illuminated in black, green, red, and yellow in honour of African Heritage Month.
Delightful Downtown Light Show
Throughout February, the Downtown Halifax Business Commission will project light displays on the former Halifax Memorial Library Building at Grafton Park in celebration of African Heritage Month.
Pan-African Flag on Viola Desmond Ferry
Throughout February, the Pan-African flag will be displayed on the Viola Desmond Ferry in honour of African Heritage Month. 
Virtual Museum Tours
Take an immersive tour of popular heritage and cultural sites, including the Africville Museum and the Black Cultural Centre.
Halifax Public Libraries Virtual Portal
Explore the African Heritage Month virtual portal, featuring programs that celebrate the African Nova Scotian community.
Halifax African Heritage Month Flag Raising