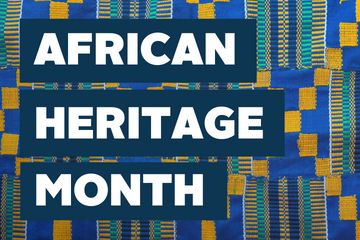 African Heritage Month
This year's theme, 'Seas of Struggle: African Peoples from Shore to Shore,' recognizes the struggles people of African Descent face from the shores of Africa to the shores of Nova Scotia. The Atlantic Ocean has played a vital role in African Nova Scotian history, whether it be West Africans transported to Nova Scotia as enslaved peoples; the historical migrations of Black Loyalists, Jamaican Maroons, War of 1812 Refugees, and Caribbean migrants; the exodus of African Nova Scotians to Freetown, Sierra Leone; or the travels of people of African descent who continue to call Nova Scotia home. This theme explores the struggle and adversity that was overcome by people of African descent in Nova Scotia and across the African Diaspora. 
Celebrate the rich culture of people of African descent by participating in this year's events and activities:
Provincial Launch
Jan. 23 | 10 a.m.
Watch the livestream on YouTube.
Municipal Opening Night
Jan. 26 | 6:30 to 8:30 p.m.
North Branch Library or watch the livestream on YouTube.
In partnership with the Halifax Public Libraries and the African History Month Association, and with support and funding from Support4Culture, the Office of Diversity & Inclusion/ANSAIO welcomes residents to kick-off African Heritage Month at the North Branch Library, as Opening Night returns to an in-person format this year. Enjoy musical performances by Jah'Mila and Marko Simmonds, special words from the Africville Genealogy Society on their 40th anniversary, and a proclamation reading by Mayor Savage.  
Flag Raising
Jan. 30 | 9:30 a.m.
Grand Parade Square and Halifax Hall
Attend an African Heritage Month flag raising and a special performance by Owen Lee at Grande Parade (weather permitting) before moving indoors to Halifax Hall for a proclamation reading by Deputy Mayor Austin and light refreshments.
City Hall Lit in Pan-African Colours
Jan. 23 - 27   |  Feb. 18 - 21   |  Feb. 23 - 28
City Hall will be illuminated in black, green, red, and yellow in honour of African Heritage Month.
AME Zion Church community artwork unveiling event
Feb. 8, | 11:00 a.m.
Halifax North Memorial Library
Join municipal staff and members of the local African Nova Scotian community for a community artwork unveiling to help celebrate the AME Zion Church and its positive contribution to the African Nova Scotian community in Halifax.
Delightful Downtown Light Show
Throughout February, the Downtown Halifax Business Commission will project light displays on the former Halifax Memorial Library Building at Grafton Park in celebration of African Heritage Month.
Pan-African Flag on Viola Desmond Ferry
Throughout February, the Pan-African flag will be displayed on the Viola Desmond Ferry in honour of African Heritage Month. 
Virtual Museum Tours
Take an immersive tour of popular heritage and cultural sites, including the Africville Museum and the Black Cultural Centre.
Halifax Public Libraries Virtual Portal
Explore the African Heritage Month virtual portal, featuring programs that celebrate the African Nova Scotian community.
African Heritage Month events for youth
Events at the Power House Youth Centre – 1606 Bell Road, Halifax
For youth ages 13-24


www.halifax.ca/powerhouse
Film Screening: Summer of Soul (2021 PG 1hr 58mins)
Feb. 11 | 1 p.m.
A gorgeous music documentary directed by Questlove about the legendary 1969 Harlem Cultural Festival which celebrated African-American music and culture and promoted Black pride and unity. 
Valentine's Day Community Meal: Heart-Shaped Bermudian Fish Cakes
Feb. 15 | 5 - 6:30 p.m. (changed from Feb. 14 to Feb. 15)
Learn how to make traditional Bermudian fish cakes served on a bun with coleslaw and a Valentine's Day twist! 
Button Making: What Does Brown Mean to You?
Feb. 18 | 1 - 3 p.m., and Feb. 28 | 5 - 6:30 p.m.
Come hang out and make buttons inspired by the question "What Does Brown Mean to You?", the title of a newly published book written and illustrated by Ron Grady. Drawing and colouring supplies will be available along with pre-made designs with messages of anti-racism, love and joy, and portraits of heroes from history who paved the way for future generations. Youth will also enjoy free snacks and have access to educational materials related to African Heritage Month. 
Film Screening: Hidden Figures (2016 PG 2hrs 7mins)
Feb. 25 | 1 p.m.
The amazing and untold true story of three brilliant African-American women working at NASA who were responsible for the launch of an astronaut into space. 
Public skate in celebration of African Heritage Month
Feb. 27 | 7 - 9 p.m.
Emera Oval 
Events at the Den Youth Centre - 636 Sackville Drive, Lower Sackville
For youth ages 13-18


www.halifax.ca/theden
Movie and Reflection/Discussion- Showing: The Hate U Give.
Feb. 8 | 5:15 p.m.
Talk about the BLM movement and understanding racial trauma/experiences 

Beaded art patterns
Feb. 13 | 5 p.m.

Learn Bantu Knots, box braiding, cornrows and other traditional braiding styles while sampling local Nigerian food.
Feb. 22 | 5:30 p.m.
 
African Heritage Month events at the North Preston Community Centre
Valentine's Day High Tea | Feb. 15 from 2-4 p.m. 
Seniors within the community of North Preston are welcomed to join us for tea and refreshments in celebration of African Heritage month and Valentine's Day.
*please note that this event has been moved to Feb. 15 due to weather 
Head Start Heritage Display | Feb. 15 from 6-7:30 p.m.
The North Preston Community Centre and the Preston Area Library invite you to journey to the Head Start program from 1969 to the early 1970's. Images will be shared from the collection of program leader Susan Beaver, whose legacy of Art has influenced community today. The display will be featured throughout African Heritage Month.
Pancake Supper | Feb. 21 from 4-6 p.m.
Join the North Preston Community Centre and the Annie V. Johnson Chapter of the Imperial Order of the Daughters of the Empire (IODE) for a delicious pancake, ham and sausage dinner acknowledging Pancake Tuesday. Tickets ($5 per person) will be available at the front desk of the Community Centre and with IODE members. Children seven years and under admitted free. Proceeds go towards Annie V. Johnson Educational scholarship.
Toast to Success | Feb. 23 from 6-8 p.m.
We invite you to celebrate African Heritage Month by attending a free community dinner to connect with your neighbours and hear from NPCC staff on recent engagement efforts and next steps.
Please call 902-462-4230 to reserve your spot for each of these events, as spaces are limited.
Halifax African Heritage Month Flag Raising