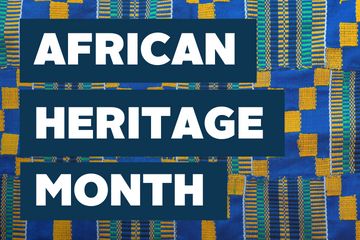 February is African Heritage Month, a time to celebrate the rich culture, achievements and contributions of African Nova Scotians and communities of African descent in our region and across the nation.
This year's theme, Through Our Eyes: The Voices of African Nova Scotians, recognizes the long-standing history of people of African descent in the development of Canada. This theme also raises awareness of the racialized issues and great adversity the Black community has overcome, while acknowledging the ongoing barriers to equity and inclusion still present within our communities and our organization.
This year's events and activities have been reimagined for a virtual setting in response to COVID-19:
African Heritage Month Events
African Heritage Month Provincial Launch 
The Black Cultural Centre for Nova Scotia will be livestreaming the provincial launch. Watch online on Facebook or YouTube.
Wednesday, January 26 at 10:00 a.m. 
African Heritage Month Opening Night
Enjoy the municipality's virtual Opening Night, The Black Cultural Centre for Nova Scotia and Halifax Public Libraries will launch African Heritage Month 2022. The annual Opening Night Celebration will stream live on Facebook or YouTube.

Thursday, January 27 at 7 p.m. 

Halifax Libraries Virtual Portal 
Explore the African Heritage Month virtual portal, featuring programs that celebrate the African Nova Scotian community.
African Heritage Month Proclamation
Halifax African Heritage Month Flag Raising