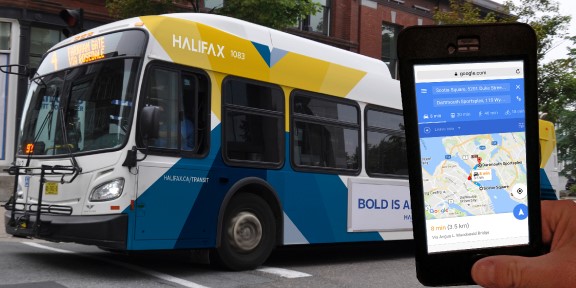 About Google Transit
Google Transit is a free public transit trip planner that integrates Halifax Transit routes, schedules, and stop data into Google Maps.
Google Transit is compatible with screen readers for the visually impaired and works with Google Earth, Google Maps, and Google Maps for Mobile Devices.
Google Transit does not cover service disruptions such as street maintenance, closures, detours, etc.
Disclaimer
HRM works with Google to provide the most accurate and up to date information possible for the Google Transit Trip Planner. HRM does not guarantee that the information represented by Google Maps is 100% accurate or up to date. HRM is not responsible for points of interest available within Google Maps; if a point of interest cannot be found, the civic address may offer better results.
Common questions
Why are the routes Google suggests different than the ones I normally take?
Google Transit is designed to get you from A to B as quickly as possible. To do this, the application may suggest you walk to a different stop to catch a more direct route that will get you to your destinations quicker.
Why does Google make me walk to a stop that is further away from my starting point?
Building upon the previous question - Google may suggest that you walk to a different stop nearby that offers a more direct route because that route will get you to your destination quicker and with a fewer number of transfers. However, Google may not always be right and in bad weather you may opt to take a longer route for the sake of comfort.
Why can't I find a particular point of interest (POI) on the map?
Google Maps gathers data from a number of sources. HRM has submitted several municipal assets and will continue to do so to help improve the service. Business owners are welcome to submit their locations to Google Maps via Google's Local Business Center as well. If you cannot find a particular POI try entering the civic address instead.
HRM has added major Halifax Transit terminals as points of interest, however you may need to type "Halifax Transit" before or "Halifax' after the terminal name in order for Google to recognize them as terminals.
For example:
Try "Halifax Transit Lacewood Terminal" or "Lacewood Terminal, Halifax" instead of just "Lacewood Terminal"
Why can't I get community transit information on Google Transit?
Because these routes do not stop at fixed bus stops, we are unfortunately unable to include them in Google Transit.
Can I find the scheduled data on Google Transit?
Yes. Google Transit allows you to look-up scheduled departure times for routes servicing a specific stop.
A local business is not found in Google Maps. How can I add it?
Google's Local Business Center explains how you can do this and more for free.