The Departures Line and the Departures Boards (available at many terminals) allow passengers to obtain real-time information regarding bus departures.
While Halifax Transit expects most predictions to be reasonably accurate, the technology is complex and relies on multiple systems, both on and off the bus, to work together. Because of the complexity of the system, somewhat inaccurate information may be provided when one system fails to communicate with another. In some instances, if the technology cannot make an accurate prediction for a real-time departure, a scheduled departure time will be used.
Riders should remember that incidents may occur on your route that could impact the accuracy of the predicted, real-time information.
Departures Line
The Departures Line is accessible to passengers by calling a single phone number (902-480-8000). Callers then enter the bus stop number (printed on each bus stop sign) to hear which bus is departing, and at what time, from that bus stop.
How to use the Departures Line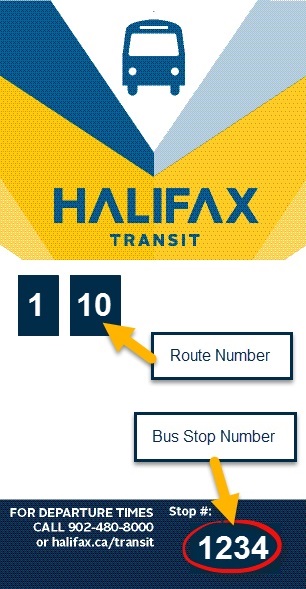 1. Call 902-480-8000
2. When asked to enter your stop number, enter the four digit number from your bus stop sign (lower right corner).
3. When asked to enter your route number, enter the route number (also found on the bus stop sign) followed by #.
4. The phone system announces either the scheduled time or the estimated time for departure.
"Scheduled to depart" means the system is providing the scheduled times listed in the Rider's Guide or the Route Schedule.
"Estimated to depart" means the system is providing real-time bus departure information.
The following calling features can be used to obtain more information from the Departures Line.
Press
Description
Press
Description
#
Skips the opening bulletins or notifications.
*7
Repeat bus departure information or repeat instructions.
*8
Return to the start of the route listing (after using *9)
*9
List all routes servicing the selected stop.
The routes are listed in order based on their scheduled departure time. The list may include routes with a scheduled departure up to 10 minutes prior to the current time. Once a selection is made from the list, real-time bus departure time is provided.
1
Enter a different stop number. (after a departure message has played)
2
Enter a different route number. (after a departure message has played)
Departures Boards
The Departures Boards display either real-time or scheduled bus departure information on a large screen at the terminal.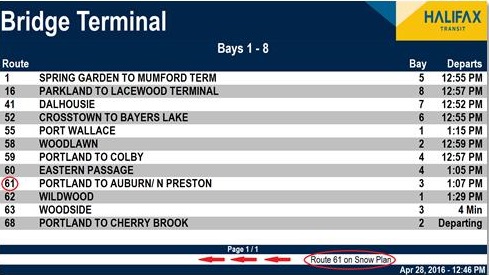 All bus routes servicing the terminal have real-time (or scheduled) departure information displayed. Also displayed are the bay numbers indicating where each bus will be departing from. Public alert information, such as routes on snow plan, may also appear on the board.
The Departure Board begins a minute-by-minute countdown for a route that is ten (10) minutes from its departure time (in real-time).