The municipality will be installing over 150 bilingual stop signs at intersections around Conseil scolaire acadien provincial (CSAP) schools starting the week of March 6, 2023.
The municipality plans to have most of these stop signs installed in time to celebrate International Francophonie Day on March 20. International Francophone Day and Francophonie Month are a time to celebrate the French language and diverse Francophone cultures in our region and across the world.
In July 2022, Regional Council provided direction to support the installation of bilingual stop signs, including endorsing community or group applications to the province's bilingual stop signs program.
The council-provided direction on installation of bilingual stop signs extends the reach of the province's bilingual stop sign program to include communities, neighbourhoods or near facilities on municipal roads that are able to demonstrate the importance of Acadian culture and history, and/or the importance of the French language, to their social, linguistic and cultural identity.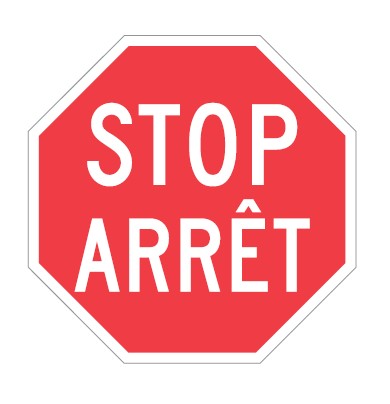 Bilingual Stop Signs and Locations

| Bilingual Stop Signs | | | |
| --- | --- | --- | --- |
| Bilingual Stop Signs | | | |
| | | | |
| School | Intersection | # of Signs | 155 |
| École Secondaire Mosaïque | John Savage Ave / Commodore Dr | 1 | |
| | RBC Centre Site | 5 | |
| École Bois Joli / École Carrefour | Terrebonne Crt / Avenue du Portage | 1 | |
| | St Claire Ave / Avenue du Portage | 1 | |
| | Stanfield Ave / St Clare Ave | 1 | |
| | Marshall St / Stanfield Ave | 1 | |
| | Marshall St / St Claire Ave | 1 | |
| | Leblance Ct / St Claire Ave | 1 | |
| | Avenue du Portage / Breeze Dr | 1 | |
| | Madeline Pl / Avenue du Portage | 1 | |
| | Madeline Pl / Lexington Ave | 1 | |
| | Saratoga Dr / Lexington Ave (S) | 1 | |
| | Walnut Hall / Saratoga Dr (S) | 2 | |
| | Lindy Ln / Walnut Hall | 1 | |
| | Walnut Hall / Lexington Ave | 1 | |
| | Lindy Ln / Saratoga Dr | 1 | |
| | Lexington Ave / Breeze Dr (S) | 1 | |
| | Pompano Crt / Breeze Dr | 1 | |
| | Walnut Hall / Saratoga Dr (N) | 1 | |
| | Castleton Crt / Breeze Dr | 1 | |
| | Holly Ln / Lexington Ave | 1 | |
| | Castleton Cres / Saratoga Dr | 1 | |
| | Castleton Cres / Breeze Dr (east side only) | 1 | |
| | Pine Hollow / Lexington Ave | 1 | |
| | Saratoga Dr / Lexington Ave (N) | 1 | |
| | Lexington Ave / Breeze Dr (N) | 1 | |
| École Mer et Monde | South Bland St / Inglis St | 1 | |
| | Brussels St / Inglis St | 1 | |
| | Brussels St / Atlantic St | 1 | |
| | McLean St / Inglis St | 1 | |
| | Atlantic St / McLean St | 2 | |
| | Blue Willow Crt / McLean St | 1 | |
| | Atlantic St / Young Ave | 2 | |
| | South Park St / Inglis St / Young Ave | 5 | |
| | Ivanhoe St / Inglis St | 1 | |
| | Ivanhoe St / Atlantic St | 1 | |
| | Bridges St / Atlantic St | 1 | |
| | Atlantic St / Tower Rd | 1 | |
| | Harrington Dr / Tower Rd | 1 | |
| | Southwood Dr / Tower Rd | 1 | |
| | Southwood Dr / Young Ave | 1 | |
| École Beaubassin / École Secondaire du Sommet | Starboard Dr / Larry Uteck Blvd | 1 | |
| | Windridge Ln / Southgate Dr | 1 | |
| | Sedgewick Pl / Windridge Ln | 1 | |
| | Windridge Ln / Stockton Ridge | 1 | |
| | Stockton Ridge / Southgate Dr | 1 | |
| | Ravines Dr / Southgate Dr (S) | 1 | |
| | Ravines Dr / Southgate Dr (N) | 1 | |
| | Haystead Ridge / Ravines Dr | 1 | |
| | Thorndale Terr / Ravines Dr | 1 | |
| | Inngsbury Way / Ravines Dr | 1 | |
| | Vanier Way / Ravines Dr | 1 | |
| | Worthington Pl / Vanier Way | 1 | |
| | Rochdale Pl / Vanier Way | 1 | |
| | Strathaven Close / Southgate Dr | 1 | |
| | Windstone Close / Southgate Dr | 1 | |
| | Brigadier Crt / Starboard Dr | 1 | |
| | Fleetview Dr / Starboard Dr | 1 | |
| | Amirault Ct / Starboard Dr | 1 | |
| | Helmsman Ct / Starboard Dr | 1 | |
| | Cutter Dr / Starboard Dr | 1 | |
| | Sentry Crt / Starboard Dr | 1 | |
| | Transom Dr / Starboard Dr (E) | 1 | |
| | Transom Dr / Starboard Dr (W) | 1 | |
| | Fleetview Dr / Starboard Dr | 1 | |
| | Friesian Cr / Starboard Dr | 1 | |
| | Fathom Ct / Transom Dr | 1 | |
| | Merchant Ct / Transom Dr | 1 | |
| | Crozier Ct / Transom Dr | 1 | |
| | Masthead Ct / Transom Dr | 1 | |
| | Cutter Dr / Fleetview Dr | 1 | |
| | Alamir Cr / Fleetview Dr | 1 | |
| | Bosun Run / Fleetview Dr (W) | 1 | |
| | Bosun Run / Fleetview Dr (E) | 1 | |
| | Outrigger Cres / Fleetview Dr | 1 | |
| | Outrigger Cres / Cutter Dr | 1 | |
| Centre Tournesol | Spring St / Bedford Highway | 1 | |
| | Rutledge St / Bedford Highway | 1 | |
| | Bedford St / Rutledge St | 1 | |
| | Bedford St / Spring St | 2 | |
| | Bedford St / Division St | 1 | |
| | Green Ln / Spring St | 1 | |
| | Green Ln / Division St | 1 | |
| | Division St / Bedford Highway | 1 | |
| | Borden St / Division St | 1 | |
| | Borden St / Rutledge St | 1 | |
| | Emmerson St / Rutledge St | 1 | |
| | Barrens St / Emmerson St | 1 | |
| | Frederick St / Rutledge St | 1 | |
| | Shoreview Dr / Rutledge St | 1 | |
| | Rutledge St / Basinview Dr | 1 | |
| École du Grand Portage | Smokey Dr / Stokil Dr | 1 | |
| | Sampson Dr / Stokil Dr (W) | 1 | |
| | Sampson Dr / Stokil Dr (E) | 1 | |
| | Saratoga Dr / Sampson Dr | 1 | |
| | Karoline Dr / Sampson Dr | 1 | |
| | Sapphire Cres / Sampson Dr (N) | 1 | |
| | Sapphire Cres / Sampson Dr (S) | 1 | |
| | Saturn Dr / Sampson Dr | 1 | |
| | Saturn Dr / Stokil Dr | 1 | |
| | Spinner Cres / Saratoga Dr | 1 | |
| | Saratoga Dr / Stokil Dr | 1 | |
| | Spinner Cres / Stokil Dr | 1 | |
| | Nordic Cres / Stokil Dr (E) | 1 | |
| | Nordic Cres / Stokil Dr (W) | 1 | |
| | Nictaux Dr / Nordic Cres | 1 | |
| | Nordic Ct / Nordic Cres | 1 | |
| | Nelly Dr / Nordic Cres (S) | 1 | |
| | Nelly Dr / Nordic Cres (N) | 1 | |
| | Nappan Dr / Nictaux Dr | 1 | |
| | Newcombe Dr / Nappan Dr | 1 | |
| | Nictaux Dr / Nappan Dr / Nictaux Dr | 1 | |
| | Newcombe Dr / Nictaux Dr | 1 | |
| | Oakhill Dr / Karoline Dr | 1 | |
| | Yerevan Dr / Karoline Dr | 1 | |
| | Yerevan Dr / Oakhill Dr | 1 | |
| | Vahe Crt / Yerevan Dr | 1 | |
| | Victoria Dr / Armcrest Dr | 1 | |
| | Taleen Dr / Armcrest Dr | 1 | |
| | Haddad Dr / Armcrest Dr | 1 | |
| | Bond Crt / Haddad Dr | 1 | |
| | Taleen Dr / Haddad Dr | 1 | |
| | Oakhill Dr / Armcrest Dr | 1 | |
| | Armcrest Dr / Stokil Dr | 1 | |
| | Grennan Dr / Stokil Dr | 1 | |
| | Grennan Dr / Smokey Dr | 1 | |
| | Smokey Crt / Smokey Dr | 1 | |
| | Smokey Dr / Glendale Dr | 1 | |
| | Rogers Dr / Smokey Dr | 1 | |
| | Rothsay Crt / Rogers Dr | 1 | |
| | Rogers Dr / Rankin Dr | 1 | |
| | Rankin Dr / Glendale Dr | 1 | |
| | Matador Crt / Rankin Dr | 1 | |
| | Maple Grove Ave / Riverside Dr | 1 | |
| | Kipling Dr / Riverside Dr | 1 | |
| | Kipling Dr / Maple Grove Ave | 1 | |
| | Marie Dr / Maple Grove Ave | 1 | |
| | Marie Dr / Kipling Dr | 1 | |
| | Maple Grove Ave / Lennox Dr | 1 | |
| | Lumsden Cres / Lynville Dr | 1 | |
| | Lynnville Dr / Lydgate Dr | 1 | |
| | Lydgate Dr / Metropolitan Ave | 1 | |
| | Nictaux Dr / Metropolitan Ave | 1 | |
| | | | |