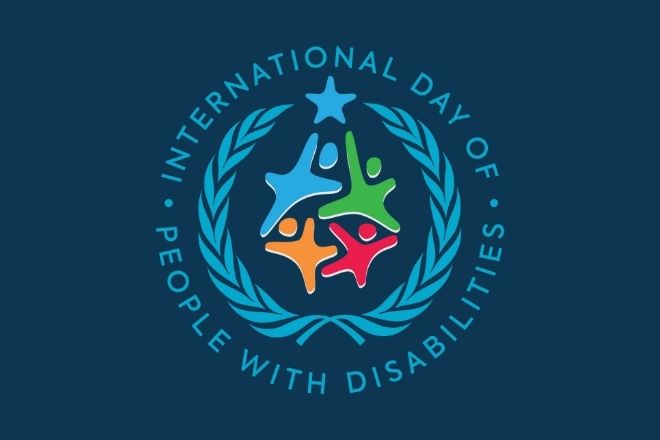 December 3rd marks International Day of People With Disabilities (IDPWD). The theme of this year's IDPWD is Fighting for rights in the post-COVID era. The theme focuses on current societal changes that are happening as a result of the COVID-19 pandemic and how we can all strive for a more inclusive, accessible, and sustainable world with a focus on equal rights for all. The official IDPWD flag will fly at City Hall on December 3, 2021.
Read a summary of the municipality's accessibility strategy and the 30 action items identified for improving accessibility and representation for individuals with disabilities. 
History of International Day of People With Disabilities
In 1976, the United Nations General Assembly proclaimed 1981 as the International Year of Disabled Persons. The goal was to call for a plan of action for all national, international, and regional levels of government to focus on equal opportunities, rehabilitation for, and prevention of disabilities. The theme of the 1981's event was Full Participation and Equality. The theme encouraged the rights of people with disabilities to take part in all aspects of life and development of their societies, which includes living conditions equal to those of the able-bodied and an equal share in improving conditions resulting from socio-economic development.
The United Nations declared 1983 to 1992 to be the Decade of Disabled Persons. That decade was to give governments and organizations a timeframe in which they could organize activities recommended in the World Programme of Action.
The Convention on the Rights of Persons with Disabilities was drafted by the UN in 2006, signed by Canada and 19 other countries in 2007. That convention is the 21st-century's first human rights treaty adopted by the General Assembly and provides that states signing it should enact laws and other measures to improve the rights of people with disabilities. The convention also abolishes legislation, customs, and practices that discriminates against people with disabilities.
Canada signed the Optional Protocol in 2018.
IDPWD Holiday Breakfast
On the morning of December 3, 2021, there will be a holiday breakfast at the Atlantica Hotel in celebration of IDPWD. The breakfast will be hosted by a group of community partners including:
Halifax Regional Municipality

The Province of Nova Scotia and the Nova Scotia Disability Employee Network (NSDEN)

Nova Scotia Human Rights Commission

Nova Scotia League for Equal Opportunities (NSLEO)

March of Dimes

Tetra Society

Canadian National Institute for the Blind (CNIB)
The event will start at 9:30am and will feature a variety of guest speakers, including Mayor Mike Savage, Deputy Minister Candace Thomas, and keynote speaker Steve Estey. Additionally, we will unveil Nova Scotia's new Access Awareness Week logo as we present the successful artist with a disability with a $1000 cheque for their submission. Finally, the Claredon Robicheau Lifetime Community Award was created to reflect a commitment and passion to improving quality of life for persons with disabilities and will be presented during the breakfast.
Watch the livestream of the local IDPWD Holiday Breakfast, taking place on December 3 from 9 a.m. to 12 p.m. Learn more about the event here.