The municipality is in the process of acquiring lands that, together with those of the province, are to lead to the establishment of the Blue Mountain-Birch Cove Lakes Regional Wilderness Park. It is an area that is approximately 20 times the size of Point Pleasant Park and contains a variety of natural landscapes and ecosystems, with outstanding opportunities for hiking, canoeing, and nature appreciation with easy access on the doorstep of the city.
The prospective Blue Mountain-Birch Cove Lakes Regional Wilderness Park is defined in concept within the municipality's Regional Plan, as represented below: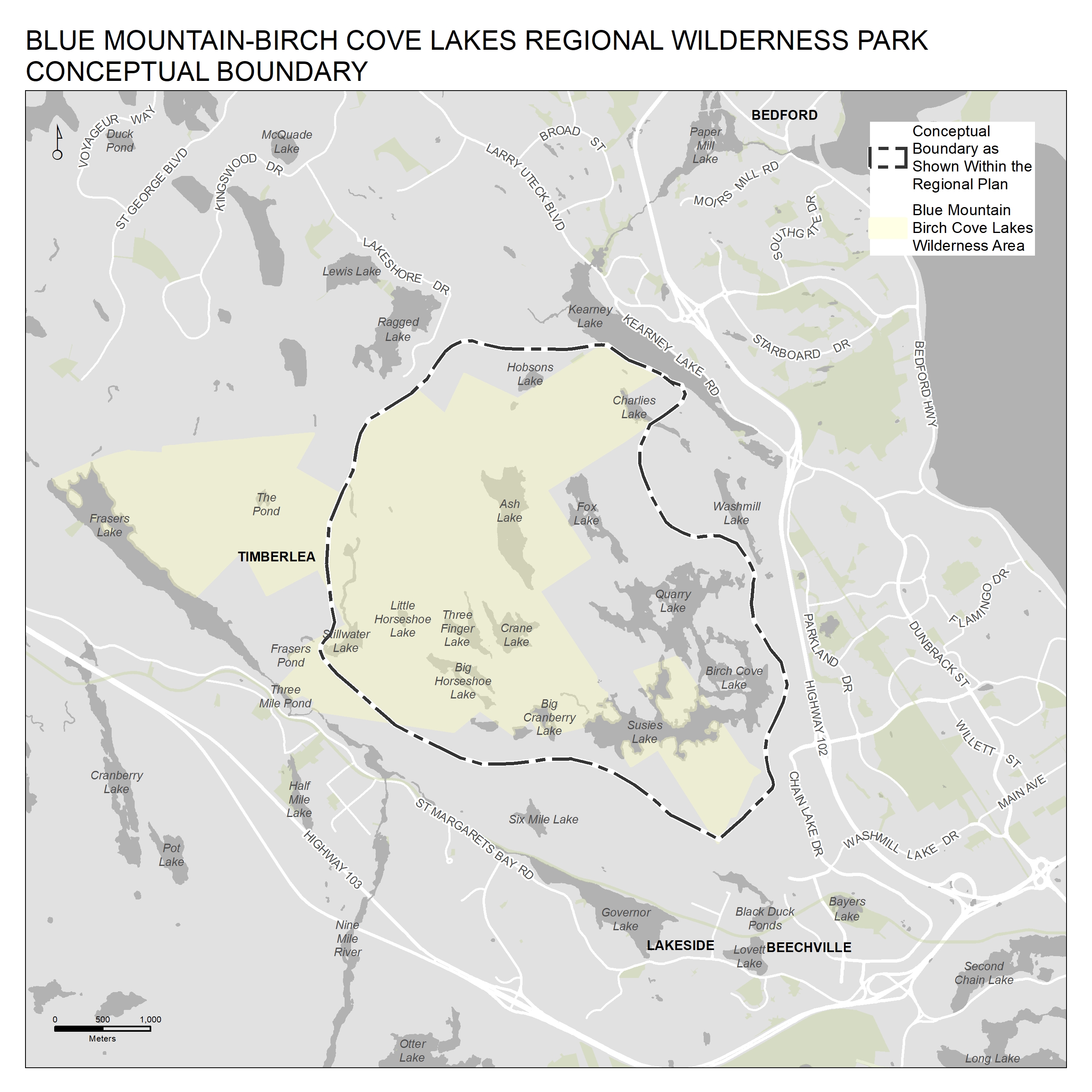 Overall Park Plan
The lands within the conceptual boundary are owned by the province, municipality and private companies and individuals. The 'EDM Plan' that was developed with public consultation guides the establishment of the park. Much of core or 'back-country' areas, within the centre of the prospective park, are to be retained in a natural state with rugged wilderness trails. Areas on the periphery of the conceptual boundary are to be comprised of 'front-country' areas that might include more formalized paths, trails, recreation areas, and trailheads that are to be established when surrounding urban development occurs.
Land Acquisition
The municipality has an active acquisition program to acquire private lands. Lands have been obtained for both back-country and front-country purposes with several significant acquisitions since 2017 as identified below: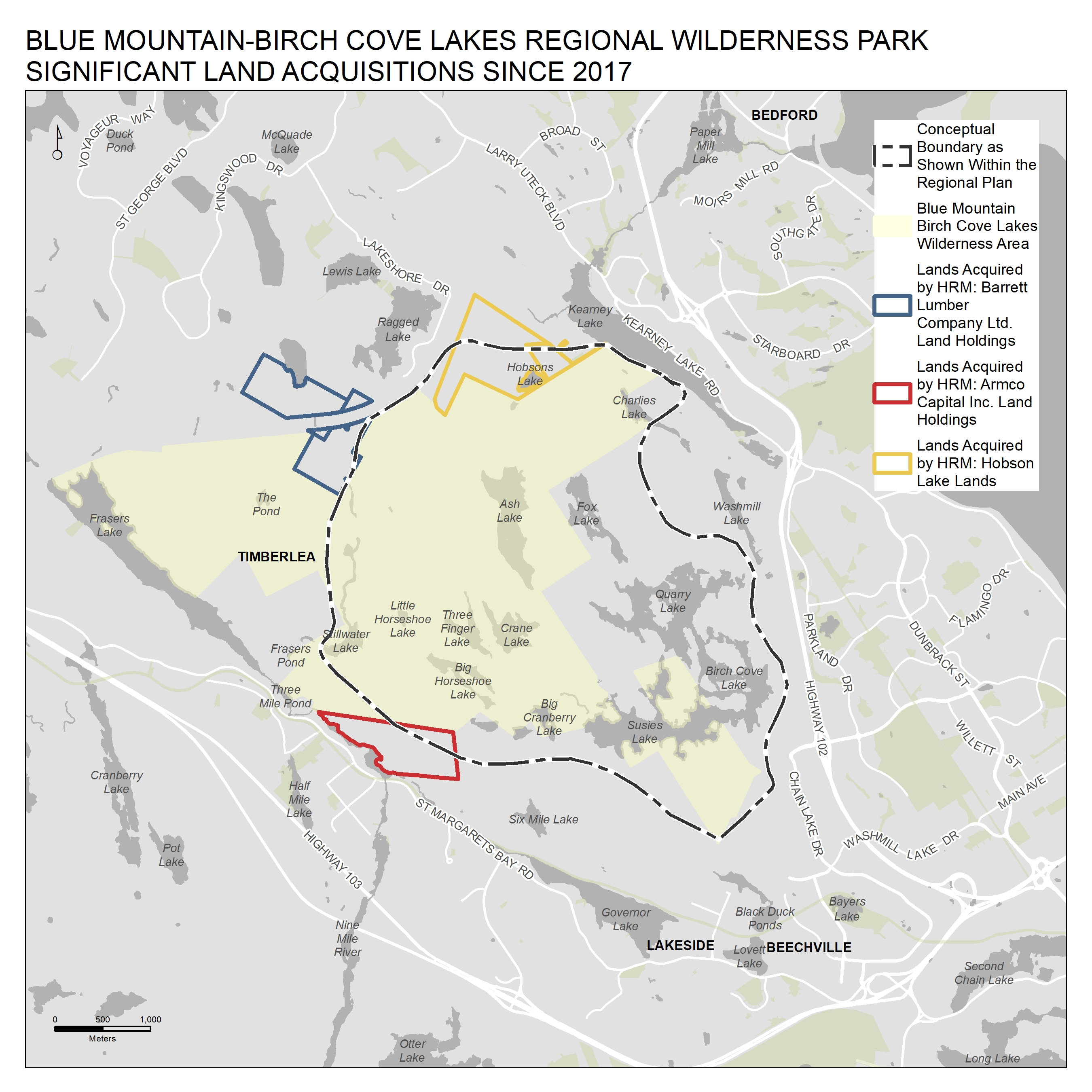 Accesses and Trailheads
As subdivision development occurs adjacent to the prospective Blue Mountain-Birch Cove lakes Regional Wilderness Park, the municipality concentrates on obtaining parkland parcels for access and larger trailheads. At this time, there are two active subdivisions where the municipality is securing parkland parcels for trailheads. Conceptual plans are being developed for parking areas that would be supplemented with other possible amenities.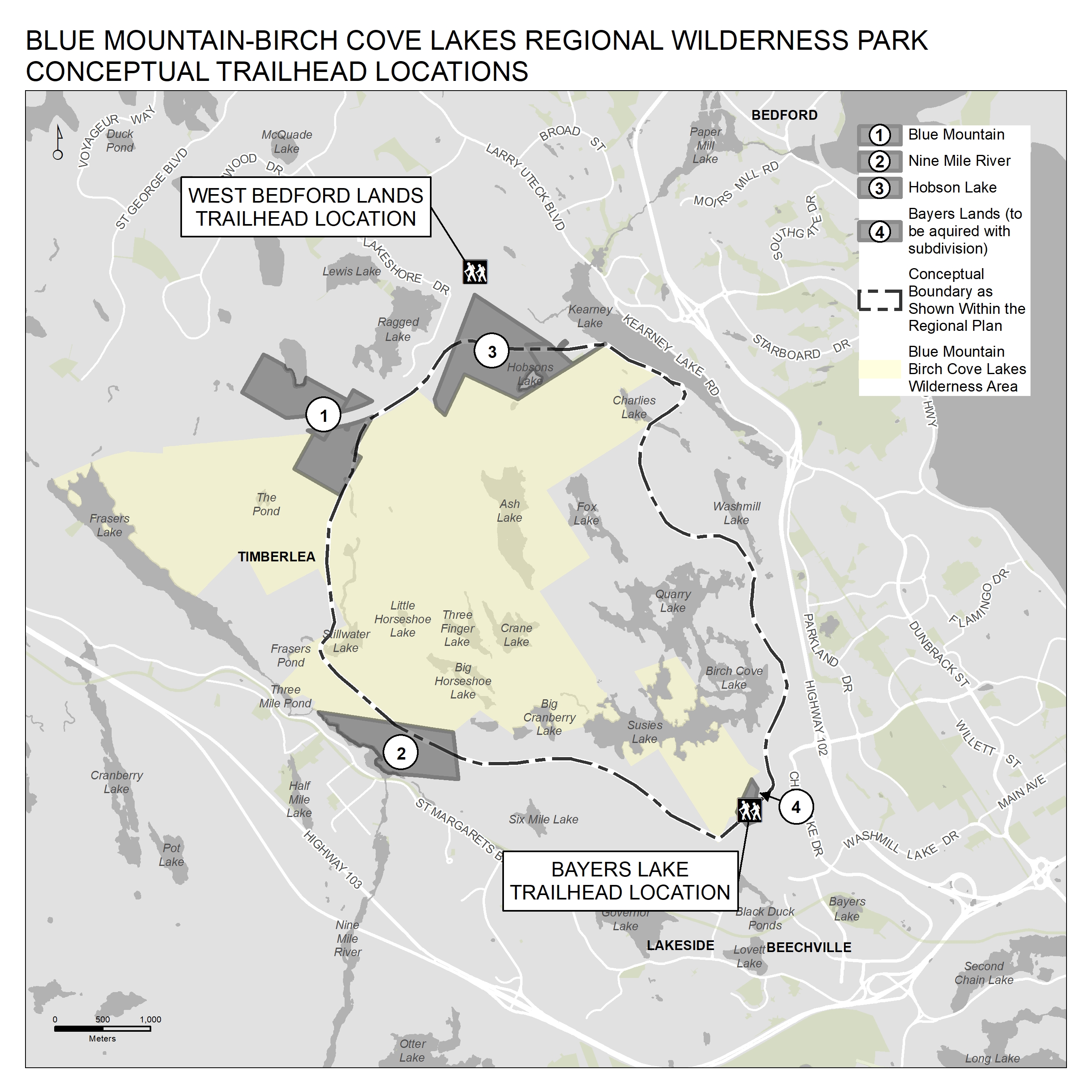 Public Consultation
The conceptual boundary for the Blue Mountain-Birch Cove Lakes Regional Wilderness Park is found within the municipality's Regional Plan that was adopted in 2006 and reviewed in 2014, following extensive community consultation. The Regional Plan is currently undergoing another regular review and additional information on this project can be found here. 
As lands are acquired and plans are considered for the prospective park, the municipality is interested in engaging with stakeholders and the public. Considerations are currently underway about how to proceed with public consultation during the COVID-19 pandemic. In the meantime, municipal staff are available to respond to public inquiries through correspondence and telephone.
Staff Contact
Richard Harvey
Manager of Policy and Planning
harveyri@halifax.ca
902.476.5822
Policy and Planning, Parks and Recreation
Halifax Regional Municipality
PO Box 1749
Halifax, Nova Scotia
B3J 3A5