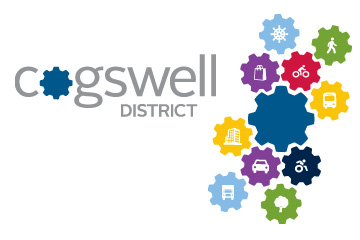 Encouraging thoughtful community feedback has been a cornerstone of the Cogswell District project from the outset.
May 2013 | Cogswell "Shake Up"
On May 16, 2013, an extensive public engagement program was hosted by Mayor Savage and the Strategic Urban Partnership coined the "Shake-Up". From that program, a Shake-Up Report was compiled with 10 proposed key aspirational themes to guide the project going forward.
Using feedback gathered from the Cogswell Shake-Up, the Cogswell Lands Plan – an extensive redevelopment plan for the district – was created.
Oct 2016 | Kick-off event & information session
Cogswell project team hosted public information session at Casino Nova Scotia on Oct. 26, 2016 to mark the beginning of the detailed design phase of the Cogswell District.
The event included a welcome from the Mayor, a project update from the Project Director, John Spinelli, an opportunity to meet the newly-hired Prime Design Consultant and a chance to engage with project staff and other key stakeholders.
Attendees were provided with a status update, an overview of where we go from here, and a chance to engage with project staff and key stakeholders on this important city-building initiative.
Several hundred people attended the event.
Spring 2018 | 60% design
Cogswell project team conducted extensive outreach to a wide range of stakeholders including adjacent landowners, developers, special interest groups, utilities, and members of  the general public.
Seven public engagement sessions were held in April and May of 2018 to update and engage residents and stakeholders on the Cogswell District 60% design plan. Input was sought on the public realm elements of the project: active transportation components, park and open spaces, elements of a proposed urban square, transit hub details and streetscape design details.
145 written comment cards were submitted by those who attended the series of seven engagement sessions and the Shape Your City online engagement portal received 2,100 visitors with 628 online survey submissions.
Summer/ Fall 2018 | 90% design
Engagement focused on two topics: public spaces and urban design rules for new buildings.
Feedback was received from August through early October through a variety of methods including focus-group meetings, surveys and map-based feedback tool on Shape Your City, as well as a series of pop-up events.

Nine pop-ups held throughout the region helped generate broad awareness of the Cogswell District and garnered meaningful input from citizens throughout the region.

A number of key stakeholder groups were identified and engaged to gain insights into topics that would be critical to consider. For example:

Engagement with members of the African Nova Scotian community highlighted a need to recognize this community's history and contribution to Halifax.
Consultation with the Mi'kmaw community (still in progress).
Engagement with representatives of Shelter Nova Scotia enlightened the design team as to the operational challenges faced by the Metro Turning Point men's shelter.

In late September, the engagement culminated in a three-day design charrette that invited members of the community to take a deeper dive into the design opportunities within the plan.

The design charrette sessions were attended by local residents and members of the architecture, design, development, business, non-profit, academic, and historical communities.
Approximately 80 individuals in total attended the sessions.
This was followed by an Expo event at Scotia Square, attended by hundreds of residents, that showed highlights of the charrette design work and invited further comment from members of the public.

An extensive digital strategy was executed in order to increase awareness and engagement regarding the Cogswell District. This included website content, organic and paid ads via Facebook and Instagram, posts via Twitter and a video hosted on YouTube and promoted through select municipal social media channels.

Approx. 40,000 engagement video views.
Nearly 300,000 accounts reached through organic and paid Facebook & Instagram posts.
More than 120,000 accounts reached through Twitter posts.

435 contributions were made via the online feedback tools (332 surveys and 103 'pins' posted to the online map seeking feedback on public spaces)  
The public feedback received through this engagement effort is helping to shape the 90% design that will be presented to Regional Council.

In particular, there have been many insights related to the desired use of public spaces that will influence the proposed 90% design
Clear direction on the design goals for new parks was achieved. 

Feedback received about urban design rules for new buildings will help inform next steps with future engagement regarding the Municipal Planning Strategy (MPS) and Land Use By-laws (LUB) associated with Cogswell District.

The 90% design is targeted for completion by December 2018, with work on the MPS and LUB extending into 2019.
Ongoing communications efforts
An integrated communications strategy will ensure that property owners, stakeholders and general public are well informed about the progress of the Cogswell District initiative, including timely project and traffic updates as necessary.