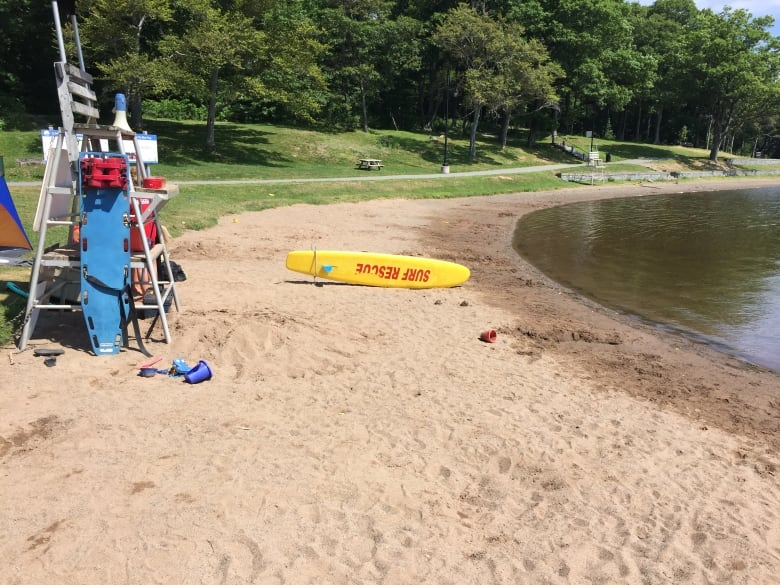 Birch Cove Beach
Birch Cove Beach is quite popular during the summer months of the year; each day, approximately, 200 people visit it. Beginning in late May until the end of September, washrooms/changing facilities are available for public use from 9:00 a.m. to 5:00 p.m. In 2013 and 2014, Birch Cove Beach became the first beach in Nova Scotia to be awarded Blue Flag Status (an international eco-label).
2022 ICF CANOE SPRINT AND PARACANOE WORLD CHAMPIONSHIPS
Please note the following changes:
Parking lot will be closed closed between July 26th and August 8th.
Birch Cove Beach will be closed from August 1st to August 8th, opening on August 9th. There will be no lifeguard supervision during these dates.
LIFEGUARDS SUPERVISION
There are active lifeguards on duty beginning on July 1 to August 31 from 11:00 a.m. to 6:00 p.m on fair weather days only. 
SAFETY
There are red bouys installed at this beach to indicate where it is safe to swim. 
When swimming at any beach you should follow these safety guidelines.
Swim with a buddy

Children Under the Age of 8 must be accompanied by an Adult in the Water and Must stay within Arms Reach at all times.

No Boats, Kayaks, Canoes in the supervise area

No Smoking or Vaping on the beach

No alcohol on the beach

No Pets on the Beach

No Barbeques on the Beach
ACCESSIBILITY
Birch Cove Beach has many features that make this beach accessible to almost everyone.
Parking
Paved walkways
Change rooms
Bathrooms
Beach mobility chair
Canoe / Kayak launch
WATER TESTING
Municipal staff regularly test the water quality for bacteria levels at all supervised municipal beaches, as well as one unsupervised beach, during the summer months (July 1 - August 31). Know your swimming limitations if you choose to swim in unsupervised bodies of water. 
EQUIPMENT LENDING
Items to be added in 2022
SWIMMING LESSONS
FREE swimming lessons are offered at most HRM beaches. To see what levels are available or to register visit www.halifax.ca/myrec  or call 902.490.6666 or online at .