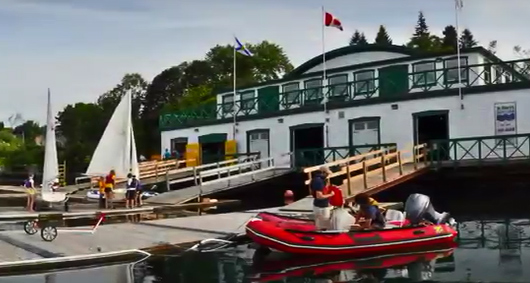 St. Mary's Boat Club was built in 1905, and was originally operated by The St. Mary's Young Men's Temperance & Benevolent Society. It was established as St. Mary's Boat Club in 1919.
After extensive renovations, it was re-opened in the summer of 1991 and currently offers recreational programs year round.
Address
1641 Fairfield Road
Halifax, NS
B3H 4E8
Hours
The administration office will not be open this season. 
Contact information
Tel: 902.490.4688
Fax: 902.490.6935
E-mail: boatclub@halifax.ca
Transit Routes
1, 14 (12-minute walk) 
Facility description
Reception Hall
The upper level boasts a large reception hall with hardwood floors, staging area and a kitchen. The grounds feature a spectacular view of the Northwest Arm from the large deck, expansive lawns and ample parking.
The reception hall is available for year round rentals and is primarily used for parties, wedding receptions and corporate functions.
Day camps and water sports
There are also weekly day camps that offer a chance for kids to have fun while learning something new. Some camp themes include cooking, art, drama, and sports.
In addition, the lower deck offers canoe rentals and provides canoe, kayak and sailing instruction to thousands of youth every summer.
Did you know you can also borrow stand up paddle boards from Halifax Recreation? Or why not join one of our Kayak Paddle nights?  
Programs offered
Visit halifax.ca/myREC to see upcoming programs offered at the St. Mary's Boat Club.
Map