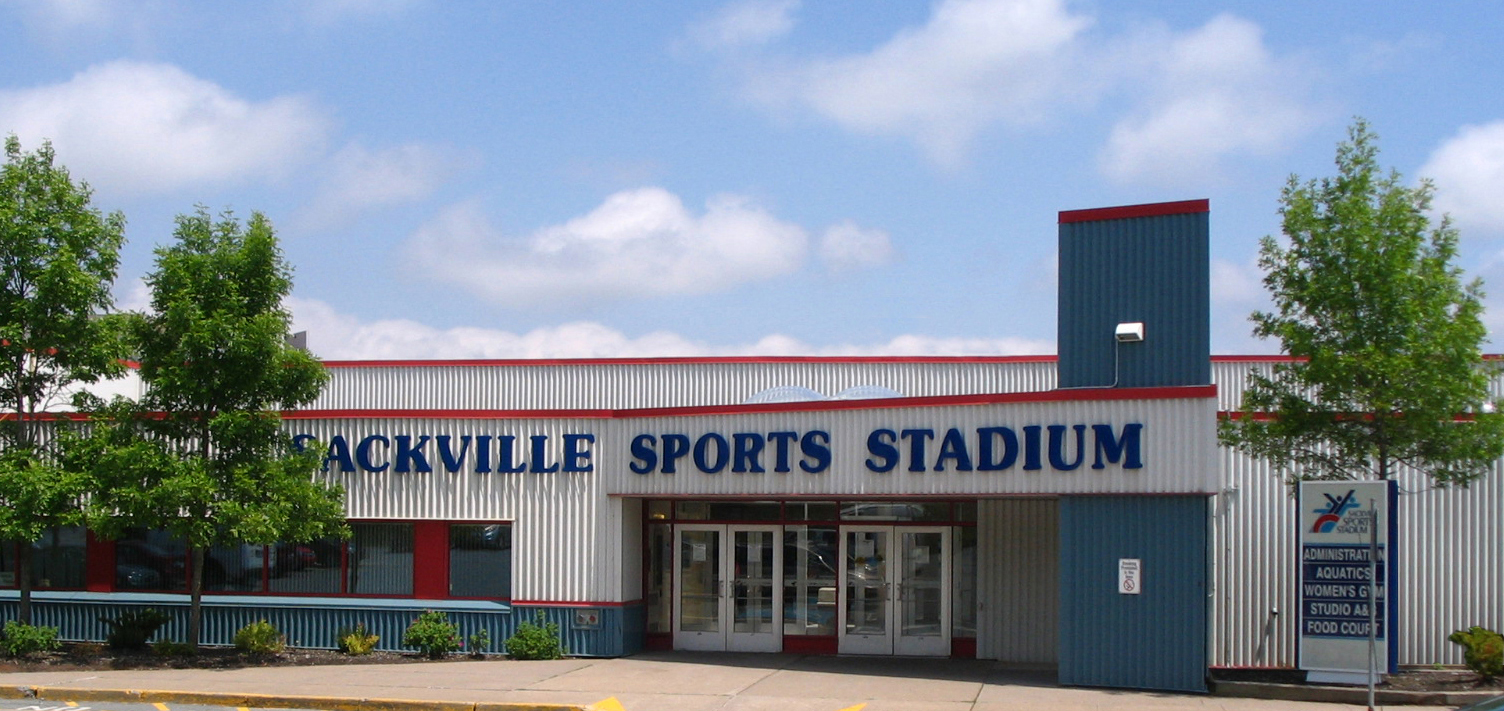 Address
409 Glendale Drive
Lower Sackville, NS
B4C 2T6
Hours
Monday to Thursday: 5:15 a.m. – 10:30 p.m.
Friday: 5:15am – 10:00 p.m.
Saturday and Sunday: 7:00 a.m. – 10:00 p.m.
Transit Routes
84
The Sackville Sports Stadium is a multi-purpose facility that offers programs and services in the areas of fitness, sport, wellness, arts, crafts, and general leisure programs, servicing Sackville and its surrounding communities.
Facility description
Sackville Sports Stadium has:
 fitness centre
 two swimming pools (one leisure pool)
 skating arena
 curling arena (September to March)
 indoor fieldhouse (April to August)
 two studios
 Rec Zone: community multi-purpose room
 Cycle Zone: indoor cycling studio
 Training Zone: specialized training facility
 child care (mornings only) for members using the facility
 meeting rooms
Fitness centre
The fitness centre at Sackville Sports Stadium is open:
Monday to Thursday:  5:15 a.m.–10:30 p.m.
Friday: 5:15 a.m.–10:00 p.m.
Saturday and Sunday: 7:00 a.m. – 10:00 p.m.
You'll find the following equipment at the Fitness Centre at the Sackville Sports Stadium:
 7 Precor recumbent bikes, 2 Expresso bikes, 2 Keiser spin bikes & 2 Star Trac upright bikes
 4 Concept II rowers
 11 Precor treadmills & 1 Life Fitness treadmill
 6 Elliptical CXT's, 2 seated lateral Octane elliptical & 1 Lateral X elliptical
 3 Precor AMT
 1 Stairmaster Gauntlet & 1 Stairmaster Stepper
 1 Scifit Ergometer
 9 Piece Nautilus One Circuit & 15 Piece Nautilus Nitro Circuit
 variety of Atlantis Selectorized Hammer Strength Plate Loaded
 4 Power Racks
 Olympic lifting station
 4 free weight benches, 1 decline & 1 incline bench press
 6 stack Precor Cable System
 Life Fitness cable station & Free Motion cable station
 2 Precor seated stretchers & 1 true stretcher
 2 Core Total Gyms
 variety of body bars, Swiss balls, kettlebells, barbells
 many sets of dumbbells and steel dumbbells 20–160 pounds
 locker rooms
Personal trainers
Certified personal trainers are on staff to help you meet your fitness goals. Various registration and price options are available.
Aquatic Centre
The Aquatic Centre at the Sackville Sports Stadium offers the following services:
 swimming lessons for all ages
 aquatic leadership programs
 group fitness classes
 specialty programs
The large pool has a temperature between 27-28 degrees. The shallowest part of the pool is 3 feet and the deepest part of the large pool is 10 feet. Some added features include slide, diving board, and rope.
The leisure pool is usually 30 degrees. The shallowest part of the pool is 2.5 feet deep and the maximum is 4 feet. The Leisure pool has a small slide for young children as well as a mushroom waterfall.
Public swims
The public swim schedule includes:
 access to early bird swims
 lane swims
 parent and child swims
 after-school swims
 everyone welcome swims
See the complete public swim schedule for Sackville Sports Stadium.
Arena
The Arena at the Sackville Sports Stadium offers:
 public skating
 shinny (drop-in hockey) for adults and youth
 yearly free themed skates for the community:

Halloween skate
Santa skate
Winter Wonderland skate
Memberships for the Sackville Sports Stadium
Adult
One Month paid in full:  $40.00 
Monthly roll over:  $40.00 
Year membership:  $440.00 
Day Pass: $10.00
10 visit Pass: $100.00
Youth/Senior
One Month Paid in full $ 30.00
Monthly roll over M $ 30.00 
Year Paid in full  $330.00
Day Pass: $10.00
10 visit Pass: $75.00
Drop-In Programs
Open Swims: $2.00 per person
Other drop-in programs: $5.00 per activity
Contact information
Phone: 902.869.4141
Fax: 902.869.4142
Connect with us on Facebook and Twitter!
Programs offered
Visit halifax.ca/myREC to see upcoming programs in Sackville and surrounding communities.
Free equipment available
Bookings & Rentals
How much does it cost?
Rental fees listed below are effective April 1, 2022.  All fees listed are per hour and do not include HST. 
Please Note: Corporate rates are available for businesses looking to book our facilities. For information on corporate rates, please contact the Facility Scheduler directly.
Sackville Sports Stadium Room Rental Fees

Fees listed are per hour + HST - Fees in effect: April 1, 2022-March 31, 2023

Rooms/Gymnasiums
Classification
Adult
Youth
Community
Rooms/Gymnasiums
Classification
Adult
Youth
Community
Gymnasium
Gymnasium - Class D
$32.50
$17.00
-
Fieldhouse
Gymnasium - Class A
$43.75
$35.00
-
Classroom
Room - Class B
$25.00
$12.50
$12.50
Conference Room
Room - Class C
$20.00
$10.00
$10.00
Lounge
Room - Class C
$20.00
$10.00
$10.00
Multipurpose Room
Room - Class B
$25.00
$12.50
$12.50
REC Zone
Room - Class A
$30.00
$15.00
$15.00
Studio A
Room - Class A
$30.00
$15.00
$15.00
Studio B
Room - Class B
$25.00
$12.50
$12.50
Training Zone
Room - Class B
$25.00
$12.50
$12.50
Yoga Studio
Room - Class B
$25.00
$12.50
$12.50
Information on User Group Categories

Youth Rates Apply to:

Individuals up to and including 18 years of age An affiliated youth sports team A sports team, 90% of whose players are 18 years of age or younger

 

Corporate Rates Apply to:

Users who are renting on behalf of a for-profit business or entity

Community Rates Apply to:

Non-profit Co-operatives Non-profit Societies Registered Charitable Organizations

Canadian Collegiate Athletic Association

Adult Rates Apply to:

Individuals who are 19 years of age or older University, Collage, or post-secondary educational institution teams/groups

How to book

Before you apply for a Recreation Centre rental, download and complete a facility rental request form.

One-time bookings:

For a one-time booking (birthday party, meeting, wedding, tournament, special event), contact the recreation centre directly with the completed form.

Recurring bookings:

For seasonal recurring bookings, email a completed application form to the Booking Contact person indicated in the Recreation Centre Listing chart on the Recreation Centre Booking & Rentals (Insert Link) web page.

Recurring Booking Contacts:

Linda Simmonds

Applications can be submitted by email to: simmonl@halifax.ca

Inquiries by Phone: 902-943-0689