Here's the information contained in the most recent Integrated Mobility Program quarterly update - Q2 (April, May, and June) 2022 (PDF). 
MOBILITY IN HRM
The Integrated Mobility Dashboard provides daily transit ridership data. The information in the image gallery below summarizes transit ridership data for buses and ferries from April to June, 2022. 
The IMP Dashboard also includes cycling data collected in multiple locations throughout the region. The information in the image gallery below summarizes bicycling counts collected between April & June 2022 for Hollis Street, Vernon Street & the Dartmouth Harbourfront Greenway.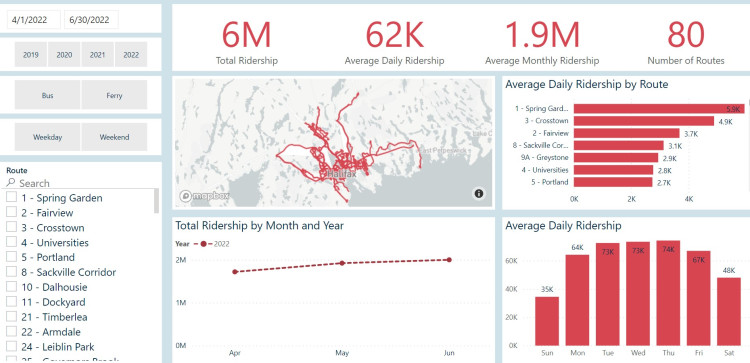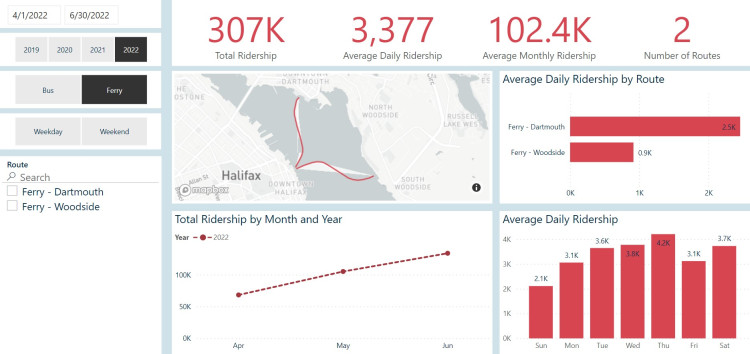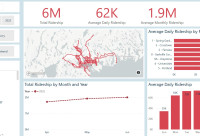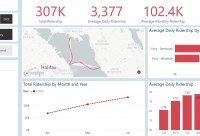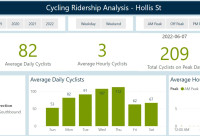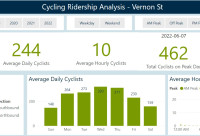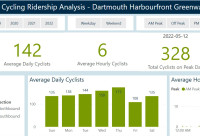 ________________________________________________________________________________________________
HALIFAX TRANSIT - ACTIVE TRANSPORTATION DEVICE POLICIES
Effective July 13, 2022, Halifax Transit is changing its policy to allow the following:
• E-bikes can be transported on the bike racks located at the front of conventional buses. E-bikes are already permitted on the ferries as long as they are safely stored in the bike racks provided. Residents must follow size and weight capacity limits.
• Skateboards, foldable manual scooters, and other manual transportation devices are permitted on buses if they are folded and stored on a passenger's lap.
•Fat tire bikes to be transported using new bike racks on the ferry. Residents must follow size limits.
At this time, gas-powered bikes and motorized transportation devices, such as segways, e-scooters, and hoverboards, are not permitted on Halifax Transit conventional buses or ferries; however, a storage solution to safely store and transport e-scooters on ferries is currently being reviewed.

These positive changes demonstrate a commitment to resident feedback, support integrated mobility and active transportation use, and align with the municipality's commitment to reducing emissions through HalifACT.

Get more information.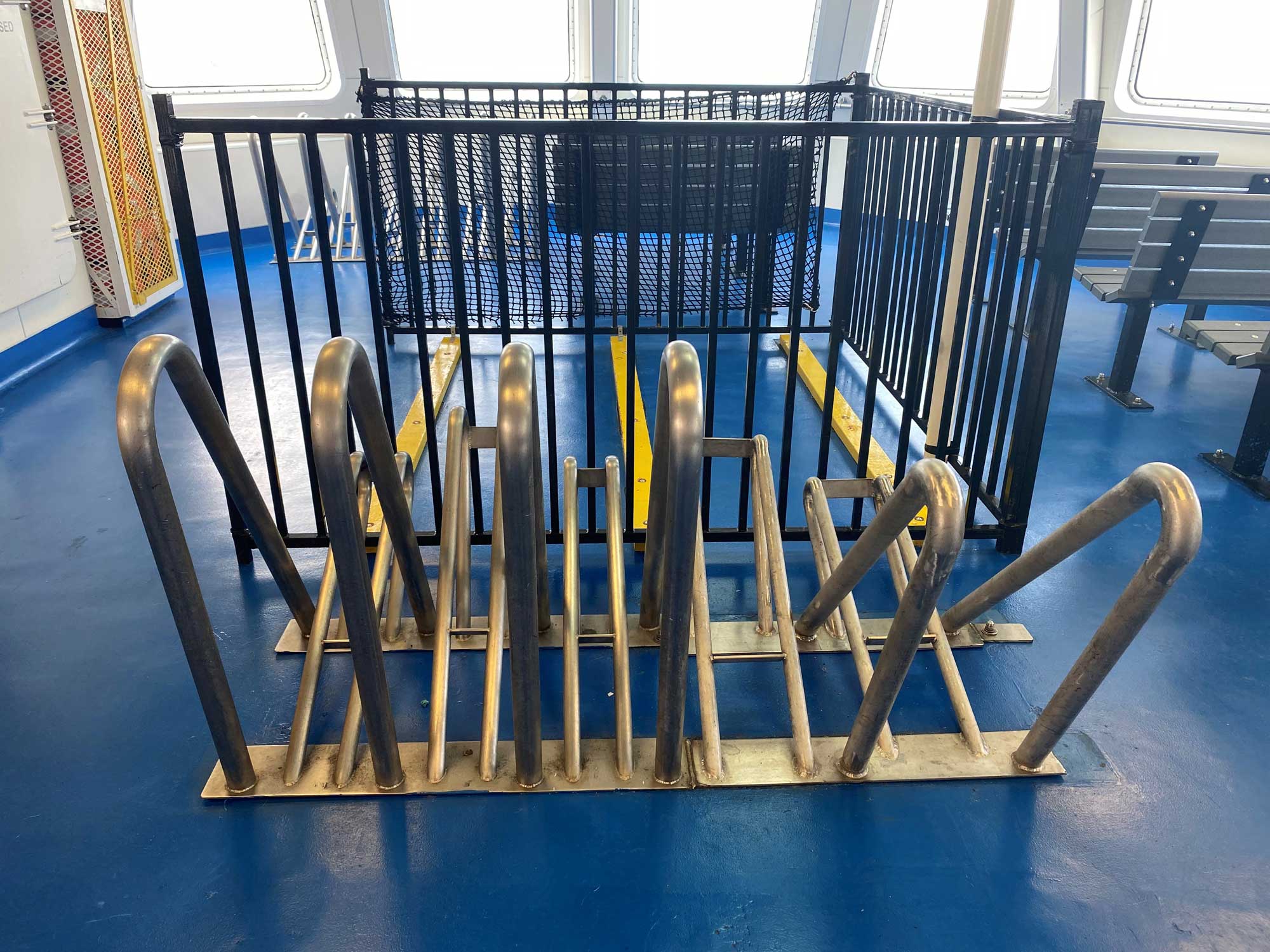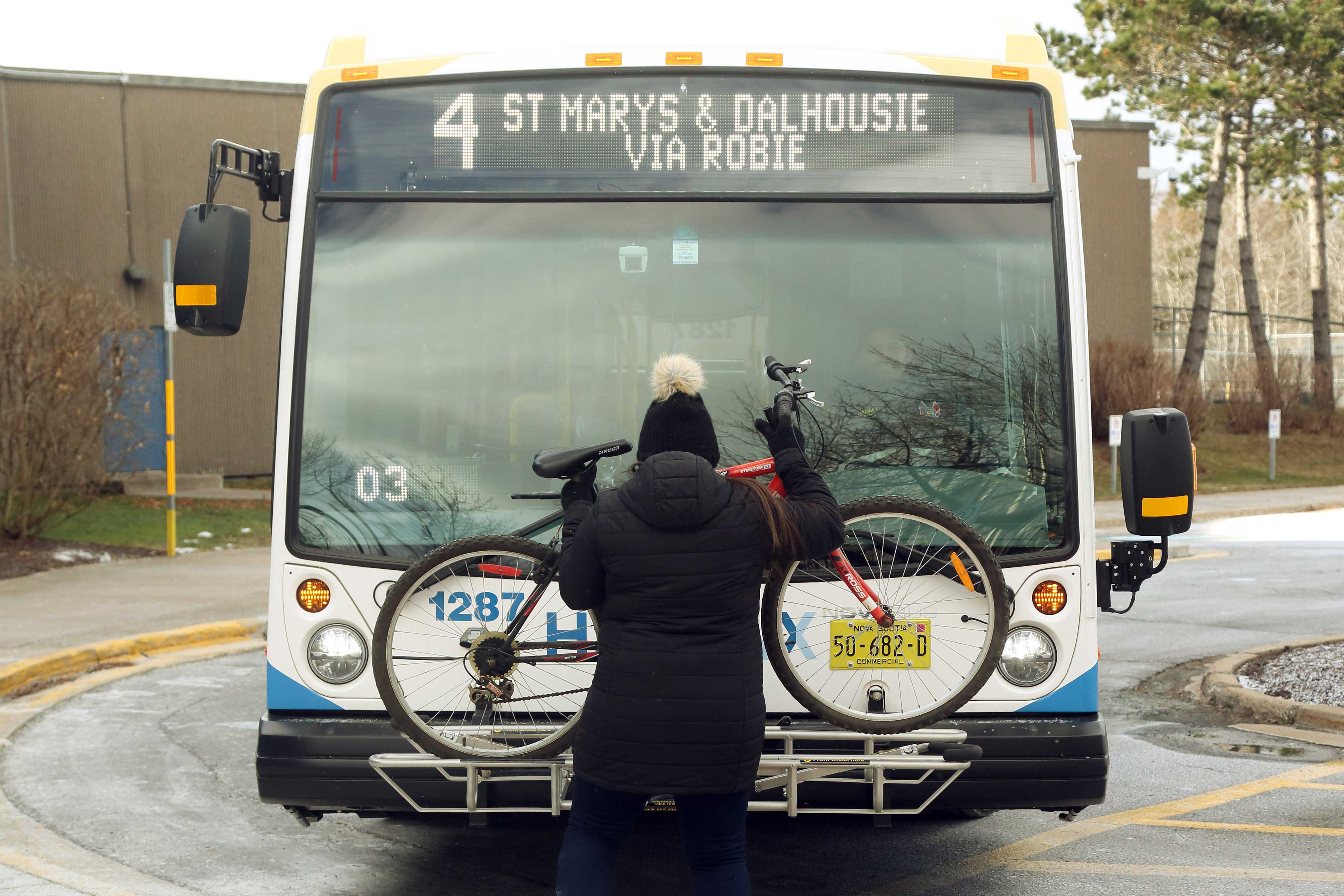 ________________________________________________________________________________________________
HALIFAX TRANSIT - FREE FARES IN JULY & AUGUST
Regional Council approved free transit service on Fridays during July and August on conventional bus service, Access-A-Bus, regional express service and the ferries. Additionally, Council also approved free service on the Alderney ferry all day every Saturday during this period. With this initiative, Halifax Transit hopes to increase awareness of Halifax Transit service and promote transit as a convenient and efficient way to get around the region. (Action 105)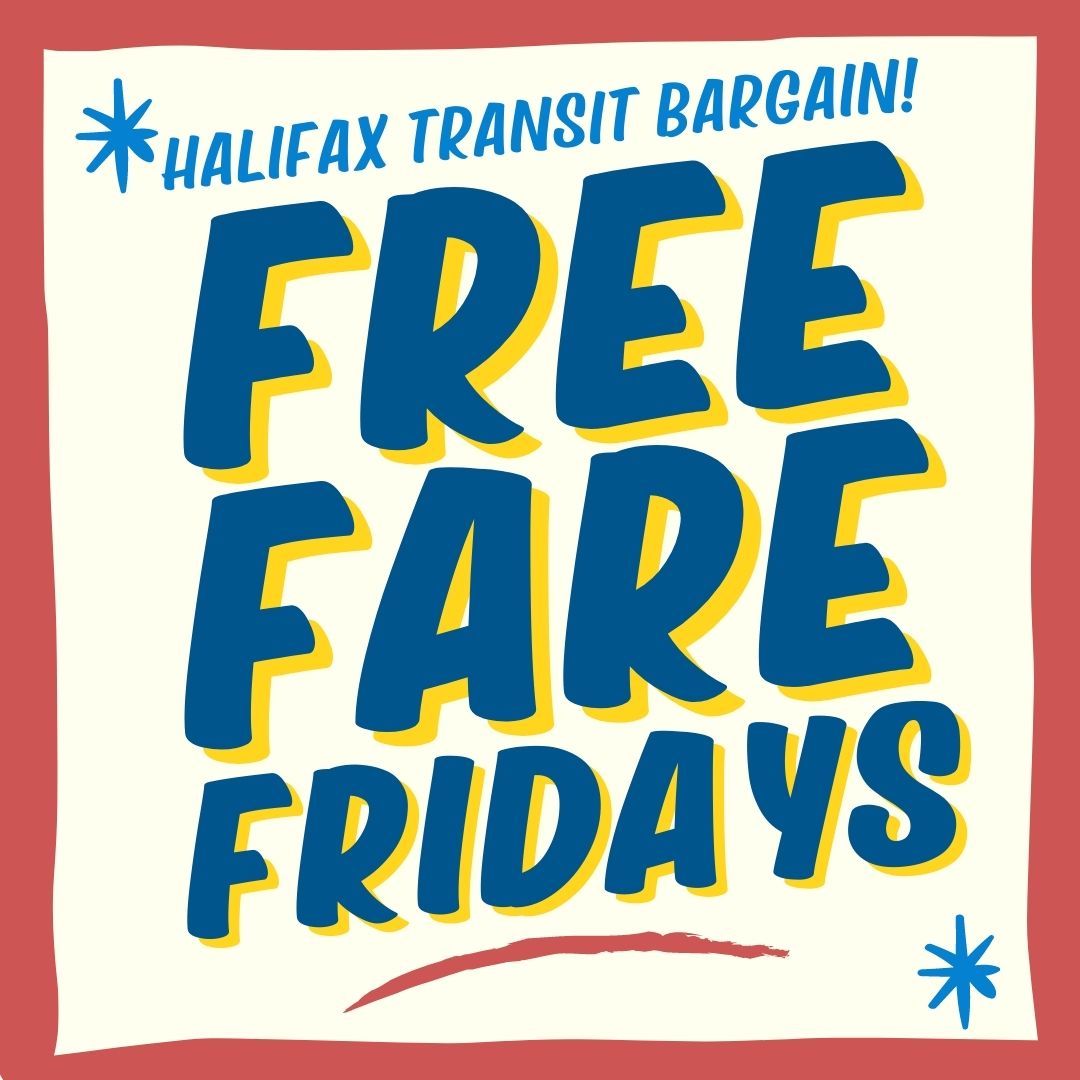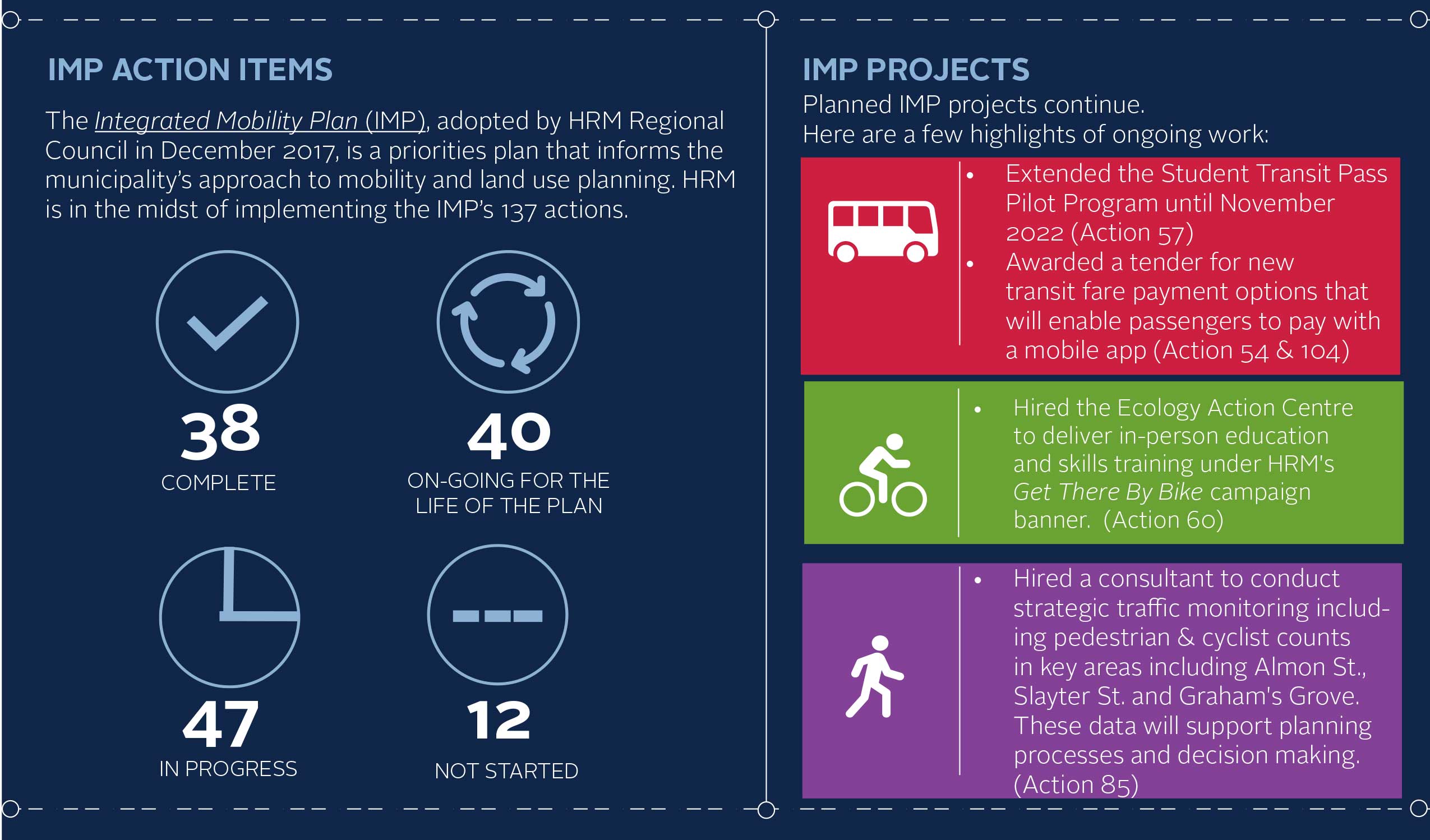 ROUND-UP FOR APRIL - JUNE 2022
Active Transportation
Launched the Get There By Bike marketing campaign in June 2022. Bell Media was hired to create media assets and campaign tactics. (Action 78)
Funded eight community organizations through the AT Education and Promotion Grants to carry out active transportation related events. Two of the events included the "Dartmouth Open Street Sunday" event (hosted by the Downtown Dartmouth Business Association) and an "On Your Left" trail safety awareness event where volunteers set up booths and handed out bike bells to passing cyclists with educational information on trail etiquette and safety. (Action 49 & 60)
Completed final designs for the tactical installations of the AAA Cycling Network "quick build" projects. (Action 72)
Completed a 30% functional plan for the Dartmouth North segment of the AAA Cycling network and sent it to internal stakeholders for review. (Action 72)
Communicated the status of the AAA Cycling Network through website updates which included an interactive "at a glance map" showing the current status of the Regional Centre AAA Bikeway network. It remains at 40% complete, with nearly all network street segments in various stages of planning and design. (Action 72)
Launched public engagement for the Shearwater Flyer to Woodside connection in June 2022. This important planning and design project will close the gap between two important greenway connections in the Dartmouth to Eastern Passage area. (Action 79)
Public Works
Regional Council approved a new Traffic Calming Administrative Order. The new policy contains significant changes, including an increased emphasis on vulnerable road users and the introduction of an equity lens that gives increased priority for disadvantaged socio-economic areas based on the CIMD (Canadian Index of Multiple Deprivation). All previously ranked streets will be reassessed under the new policy and the new list will be posted online. (Action 4)
Regional  Plan
Drafted Terms of Reference for Transit Oriented Development around the proposed Mill Cove ferry terminal. (Action 14)
Prepared amendments to Regional Plan, Secondary Municipal Planning Strategy (SMPS), Land Use By-law (LUB) & Regional Subdivision By-law to require Priority Plans, such as the IMP, to be considered during plan amendments (Action 26)
Complete Streets
Installed a moon mist (like the ice cream flavour) inspired street mural under the tactical pilot program at the corner of Artillery Place and Queen Street (Action 38 & 39)
Transportation Planning
Continued to evaluate the use of 'big data' for the municipality as part of a six-month pilot. Big Data provides detailed 24/7/365 multimodal mobility data collection throughout the municipality and will ideally be useful across a wide range of municipal departments. Overall, the selected product has proved valuable and will most likely be continued as an ongoing subscription following the pilot period. (Action 117)
Continued to work closely with developers on the planning and design of transportation infrastructure for upcoming developments including Port Wallace and Southdale. Staff are pursuing opportunities to incorporate best practices in street design standards to provide strong active transportation connections and transit service into the developments (Action 31)
Transit   
Continued planning for interim improvements at the Mumford Terminal and collaborated with Planning & Development on master planning for the surrounding area (Action 18)
Grew participation in the SmartTrip program. An additional four organizations joined the program, including Nova Scotia Health, a significant employer in the municipality. These recent additions have increased the number of participants by nearly 40% to a total of 1,269. (Action 64)
Introduced new policies allowing e-bikes on buses, fat tire bikes on ferries, and foldable manual scooters on buses (Action 58)
Held four Accessible Transit Travel training sessions in May 2022 for clients of Prescott Group, designed to increase participants' comfort using transit and knowledge about transit routes and schedules. (Action 59)
Selected 22 bus stops to upgrade through capital project integration and they are proceeding to construction. In addition, stops categorized as a low or medium effort to upgrade were also evaluated for 2022 and 32 stops were selected for construction. using current standing offers. (Action 94)
Continued progress on phase 1 studies for the proposed Mill Cove ferry service, including completion of a market analysis survey (Actions 24, 99 & 102)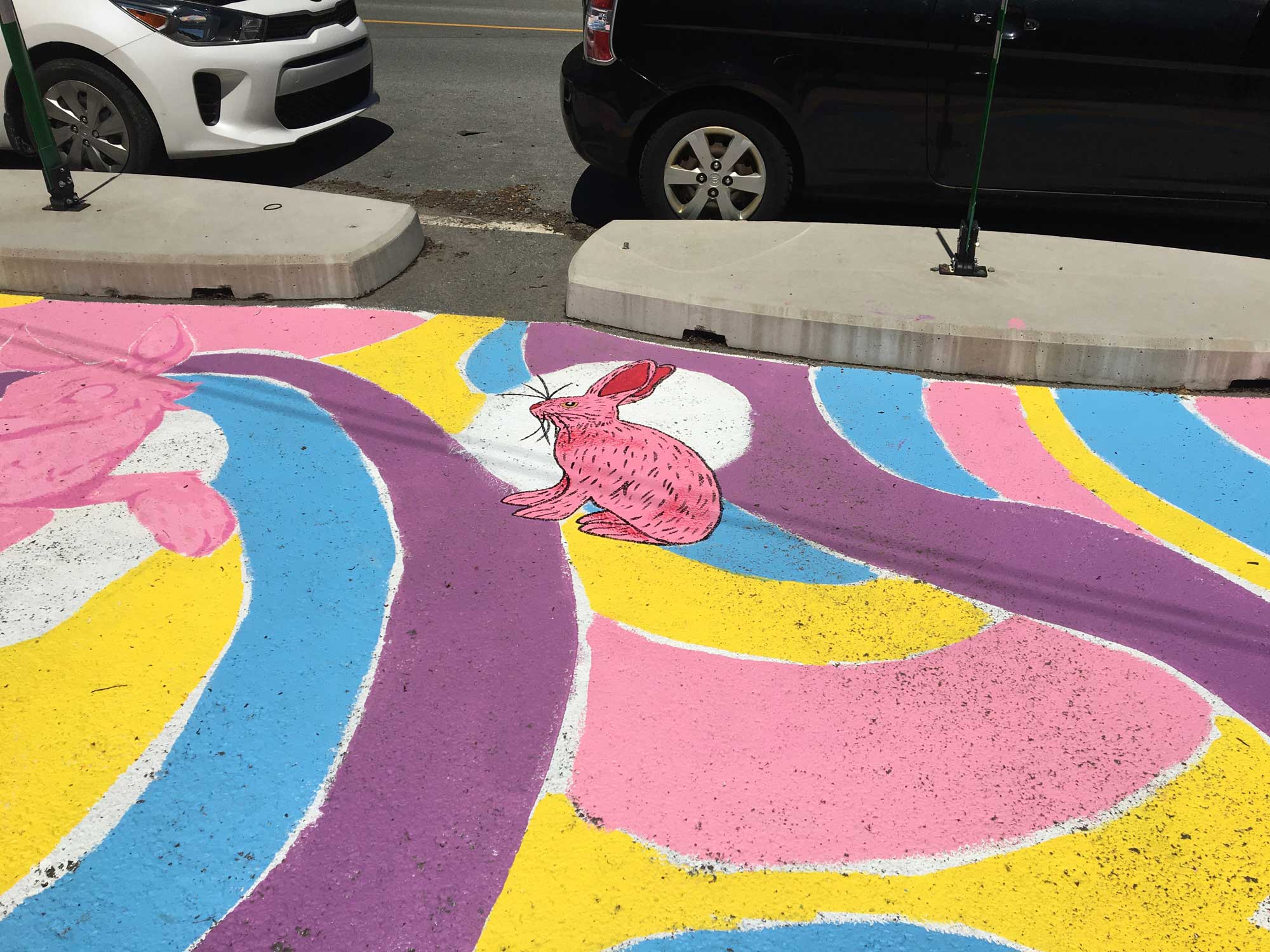 COMMUTER CHALLENGE 2022
From June 19 to 25, 2022, more than 100 municipal staff left their cars at home and chose to bike, walk, roll, carpool or take public transit for their daily work commute as part of our Commuter Challenge. Over the course of the week, staff took 942 sustainable trips, totaling 4,200 kilometers and offsetting 184 kg of greenhouse gas emissions. The Commuter Challenge was very popular with staff and there is strong interest in continuing with and expanding the initiative moving forward.

As outlined in HalifACT, our climate action plan, there are many ways we can act on climate change to shape a better future for generations to come, like commuting by sustainable modes of transportation whenever possible. Every commute makes a difference.                                             

What IMP Projects are up next?
Staff will report to Council on multiple aspects related to the Regional Plan Review including an overview of work completed during Phase 3, a revised work plan for remaining phases, information on new and outstanding site-specific requests for amendments, and update population projection scenarios. (Action 117)
Deliver in-person cycling skills and training programs in strategic locations throughout the region. Continue the Get There By Bike marketing campaign and promote the in-person cycling skills and safety training programs being delivered by our community partners. (Action 60)
Launch functional planning work for the Slayter Street segment of the AAA Cycling Network in July 2022. (Action 72)
Launch round 2 of public engagement for the Peninsula South Complete Streets segments of the AAA Cycling Network in July 2022. (Action 72)
Implement tactical installations of the AAA Cycling Network including protected bike lanes on Devonshire Avenue and Bell Road and traffic calming treatments along Slayter Street. (Action 72)
Install new sidewalk extensions, bus stop pad improvements and connections to existing pedestrian infrastructure. Accessibility upgrades to bus stops vary by location. These upgrades may include improvements to size and location of bus pads and/or sidewalk installation from bus pad to nearest sidewalk. (Action 94)
Construction of Regional Centre AAA bikeway segments on Hollis Street, Terminal Road and at the intersection of Joseph Howe Drive, Exit 0 and Chain of Lakes Trail. (Action 72)
Deliver information through the Get There By Bike campaign to a wide range of municipal residents about cycling skills, safety, etiquette as well as online resources relating to the status of the AAA Cycling Network build-out and other facility updates. (Action 78)
Implement new road safety measures including the municipality's first raised crosswalks and speed cushions. Raised crosswalks will be installed at four locations this year as part of ongoing traffic calming projects: Auburn Drive, Colby Drive, Southgate Drive and Arklow Drive. The first installation of Speed cushions will be at Robie Street between Wells Street and Stairs Street. Staff will also be completing a trial of left-turn traffic calming treatments and zebra crosswalks at select signalized intersections. (Action 4)