In anticipation of the further lifting of Public Health restrictions, the municipality is preparing to implement adjustments to the transportation network, as part of the collective effort to reduce the spread of COVID-19.
As the need for physical distancing will remain in place for the foreseeable future, and as transportation patterns evolve throughout the recovery phase, the municipality is identifying required adaptations to the use of its streets, sidewalks and bike lanes.
Municipal staff are actively engaged in planning temporary measures that can be deployed quickly, while also considering what will be needed over the coming months in response to Public Health directives. The implementation plan includes short, medium, and long-term actions to adapt the use of public space and municipal transportation networks. 
The municipality will focus on the following key areas:
Maintaining transportation systems to safely move all residents and goods as the city reopens
Keeping front-line workers safe, and actively managing and supporting both operational and remote office workforces
Accommodating delivery & pick-up needs (e.g., restaurants' new delivery models)
Relieving crowded areas (e.g., parks and narrow sidewalks) to support health department guidance for physical distancing
Creating clear messaging of the recovery effort as it relates to transportation
________________________________________________________________________________________________
What We Heard - Shape Your City Engagement 
Thank you to everyone who has provided feedback on the Mobility Response Plan so far! We have received hundreds of responses on our Shape Your City Halifax  (SYC) portal and through email to staff. 

We've received many great ideas for changes to our streets and sidewalks. Our response has been focused on temporary changes and using the resources and tools we have to address some of the most urgent needs resulting from COVID-19. There is more work to be done to improve the experience for people walking, rolling, cycling and taking transit and to improve our public spaces. Much of this work is being addressed through our Integrated Mobility Plan. Learn more here. 

While we're not able to address all these suggestions through the Mobility Response Plan, many of them are related to other municipal initiatives like the traffic calming program, streetscaping program, or active transportation planning. We are collecting the feedback we've received for more permanent changes and providing it to staff working on those initiatives for future consideration. More information on the Mobility Response Plan can be found here, including Frequently Asked Questions. 
The following highlights the feedback that has so far influenced our Mobility Response. 
Space To Move
What We Heard: Please make ___________ a Slow Street!

What We Did: We received  a lot of requests to add more Slow Streets to our previously installed network. While we are not able to make all local streets into Slow Streets, we did add Slow Streets to the following requested routes:
•    Charles Street
•    Maynard/Fuller & Creighton/Northwood
•    Pine Street
•    Norwood/Shirley Street

What We Heard: The current set up on an existing Slow Street isn't working. There aren't enough signs or barrels. 

What We Did: As part of the second round of Slow Streets, we revamped our existing slow streets with a new set-up and added barrels and signs to more intersections. Some of the routes that received additional barriers include:
•    Connolly Slow Street
•    Slayter Slow Street
•    Dahlia Street
•    Isleville Street

To support the Slow Street initiative, we accelerated a street improvement project that was planned for the intersection of Young Street, Kaye Street, and Isleville Street to improve conditions for people walking, rolling, and cycling. For more information about this project, click here. 

What We Heard: I would like to see _________ St.  incorporate a temporary protected bicycle lane or added protection for people cycling. 

What We Did: We have been working on a number of projects for adding temporary, yet robust, protection for people cycling either on existing corridors or on streets currently without any cycling infrastructure. We are still working with our team on the details of these installations, but you can expect to see something on the ground over the next few weeks. 

What We Heard: I want more permanent changes to support walking, rolling, and cycling. 

What We Did: While the focus of the Mobility Response Plan is on temporary changes to support Spaces to Move, Spaces to Load, Spaces to Queue, and Spaces to Support Business, we appreciate the feedback shared with us for more permanent changes. We have captured all of this feedback and will be making it available for longer-term planning and design processes. 
Space To Load & Support Business
On streets that fall within our Business Improvement Districts, we worked collaboratively with the organizations and brought forward feedback from our Shape Your City and other channels to come up with solutions that balanced the needs of both the residents and the businesses in the area. 
What We Heard: I think a commercial street should be closed to car traffic. 

What We Did:  In response to feedback we heard from residents and businesses, we have closed Argyle Street and soon part of Bedford Row to vehicular traffic until the September. We have also made Grafton Street and Argyle Street one-way between Carmichael and Prince Streets to allow for more patio spaces for the businesses there. These will likely be the only streets fully closed to car traffic due to the high cost of closing streets on a partial basis.

What We Heard: Gottingen Street needs more places for loading. 

What We Did: We have been working to add more opportunities for loading and curbside pickup/drop-off adjacent to Gottingen. Because of the bus lanes, loading is not possible during peak hours but outside of the 7-9AM and 4-6PM window, people are able to use parking spaces on Gottingen for pick-up and drop-off by car. 
_________________________________________________________________________________________________
Short-Term Actions
1. Expanding sidewalks on Spring Garden Road (South Park Street to Queen Street) in alignment with the proposed 2021 streetscaping project design.
2.Traffic signal timings to reduce the wait times for people to cross major streets.
Quinpool Road
Oxford Street
Robie Street
Joe Howe Drive 
Bedford Highway (Bayview Road to civic #50) 
Dunbrack Street
Almon Street/Connaught Avenue,
Bayers Road (Oxford Street to Windsor Street) 
Young Street
4. Create temporary loading spaces for businesses.
Spring Garden Road at Krave
Clyde Street near Queen Street (Garden Restaurant)
Dresden Row near Pete's
South Park Street at the Trillium
Portland Street at New Scotland Yard
Portland Street near civic #145
Prince Street at Portland Street
King Street near Humble Pie
Alderney Drive near Stone Pizza
_________________________________________________________________________________________________
Argyle Street Pedestrian Only between Prince and Blowers Streets
Argyle Street is closed to all vehicle traffic between Prince and Blowers streets as part of phase one of the Halifax Mobility Response plan. This closure will be in place until Tuesday, Sept. 29, 2020. Argyle Street will remain fully open to pedestrians and cyclists. Access to all stores and restaurants will be maintained.
__________________________________________________________________________________________________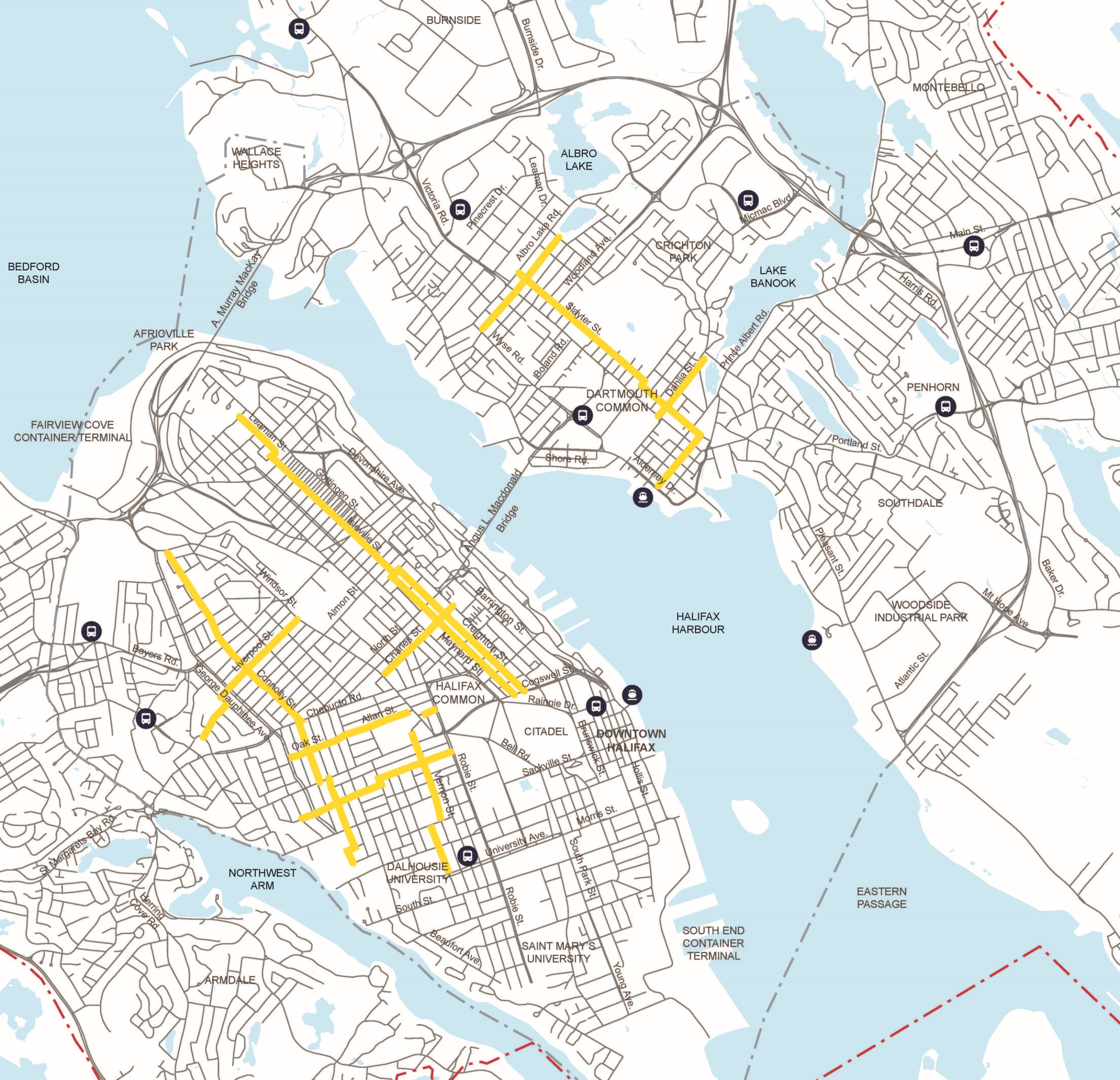 Slow Street Implementation
The following streets will be designated as 'slow streets'. They will be open to local traffic only, to reduce vehicle volumes and to create a space for residents to walk, roll and cycle while adhering to physical distancing guidelines. 
Only those motorists who live, are visiting, or are accessing a business on these streets are considered local traffic.
Halifax:
•    Leaman, Drummond, and Isleville streets between Leeds and Almon streets
•    Connolly Street between Windsor Street and Chebucto Road
•    Elm Street between Chebucto and Quinpool roads
•    Beech Street between Quinpool and Jubilee roads 
•    Peter Lowe Avenue between William Hunt and George Dauphinee avenues 
•    Liverpool Street between Connaught Avenue and Windsor Street
•    Oak and Allan streets between Connaught Avenue and Windsor Street
•    Welsford Street between Windsor and Robie streets
•    Vernon Street between Pepperell and Watt streets
•    LeMarchant Street between Watt Street and University Avenue
•    Norwood Street between Connaught Avenue and Preston Street
•    Shirley Street between Preston and Robie streets
Dartmouth:
•    Chappell Street between Pinehill Drive and Wyse Road
•    Slayter Street between Albro Lake Road and School Street
•    Dahlia Street between Victoria Road and Crichton Avenue
Beginning Friday, July 17, 2020, Bedford Row, between the Founders Square parking garage and Prince Street, will be temporarily closed to all vehicle traffic to allow for additional patio space. This change will be in place until the end of September.

Cyclist access will not be permitted in this area, however, Bedford Row will remain fully open to pedestrians.

The area between the Founders Square parking garage and Sackville Street will be converted from one-way to two-way traffic. To accommodate this adjustment, the east side of Bedford Row will be converted to a No Stopping/Tow-away zone. The two-metered parking spaces on the west side of Bedford Row will remain in place. One loading space will be added on Prince Street at the Bedford Row intersection. 
Beginning Friday, July 3, 2020, Grafton Street, between Carmichael and Prince streets, will be temporarily converted into a one-way, southbound street to allow for additional patio space.
This change will be in place until the end of September.
Sidewalks will remain open on both sides of the road. Parking and loading spaces will not be impacted while this adjustment is in place.
Beginning Friday, June 19, 2020, the following streets will be added to the list of slow streets. 
Halifax:
•    Maynard Street from North to Cogswell streets 
•    Creighton Street from North to Cogswell streets
•    Fuller Terrace from Bloomfield to North streets
•    Northwood Terrace from Bloomfield to North streets
•    Charles Street from Windsor to Gottingen streets
Dartmouth
•    Pine Street from Thistle to Ochterloney streets
•    Irishtown Road from Ochterloney to Queen streets
•    Queen Street from Alderney Drive to Irishtown Road 
These temporary changes will remain in place until further notice.
 
Additional areas are being considered and will be communicated once confirmed. 
Visit the Shape Your City Halifax project page to share your suggestions on where additional actions would be helpful to help residents move safely. The feedback will be valuable in helping municipal staff determine the next steps for making temporary changes to streets as a result of COVID-19. As public health restrictions and recommendations change throughout the recovery phases, the municipality will continue to modify adaptations to the use of its streets, sidewalks and bike lanes.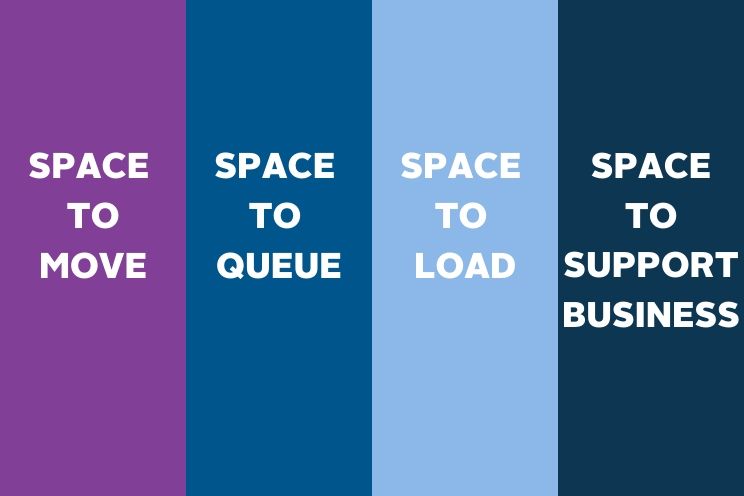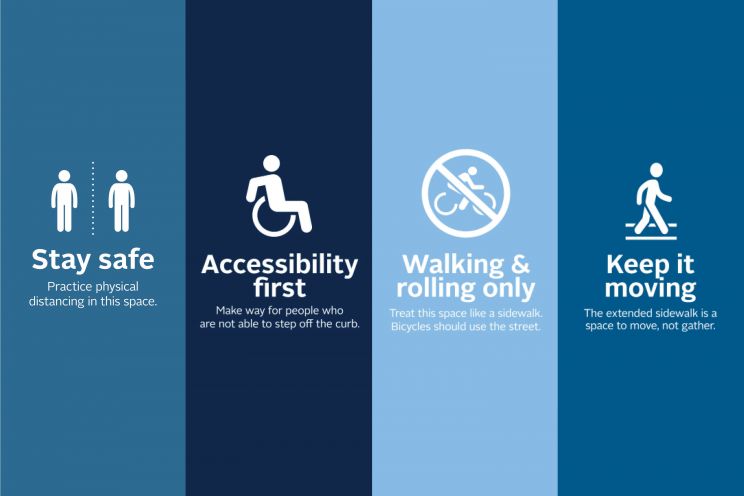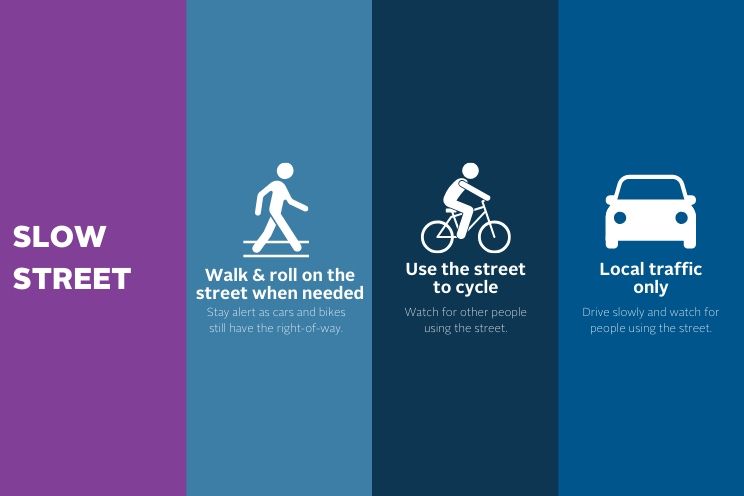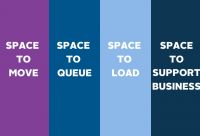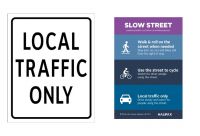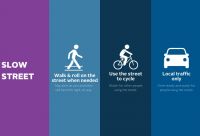 Next Steps
Consult with the Business Improvement Districts (BIDs) and businesses to understand and identify needs, locations and possible solutions.
Consult with the public and advocacy groups to identify needs, locations and solutions.
Design and implement medium-term (summer 2020) actions in response to public health directives. 
More information will be available in the coming weeks. Updates will be shared via @hfxgov on Twitter and on this web page. For more information on municipal services during the COVID-19 pandemic, visit halifax.ca/coronavirus.