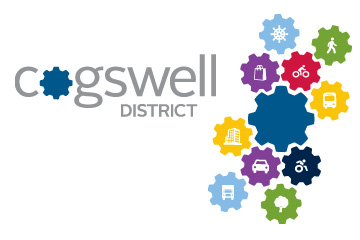 Encouraging thoughtful community feedback has been a cornerstone of the Cogswell District Redevelopment Project from the outset.
Share your thoughts online or in-person at one of many sessions throughout the municipality.
Charrette Design
Residents are invited to participate in a unique engagement process – a design charrette, scheduled for Sept. 24, 25, 26 and 28. 
Unlike an open house or engagement pop-up, the design charrette is a series of sessions focused on specific elements of the Cogswell District design plan.  Together the diverse perspectives of community members and stakeholders will shape the design for public spaces and design rules for new buildings in the Cogswell District.
Choose to attend the kick-off event to provide your ideas, delve deep into the design process at the sessions, and/ or view the results of the charrette at the expo event.
To attend a design session you must RSVP ahead of time. You can choose to attend any or all sessions.
Design Charrette

NOTE: Please RSVP to attend any or all the design sessions. The kick-off and expo events do not require registration.

Event
Date
Time
Details
Location

Kick-off event

Registration not required

Monday, Sept. 24
6-8:30 p.m.
Identify priorities and opportunities for public spaces
and urban design guidelines
Dalhousie Student Union Building,
McInnes Room

Design Sessions

Tuesday, Sept. 25
11 a.m.-noon
Site visit
Granville Street at Duke Street
1-3 p.m
Session 1: Walking, Cycling
Network & Transit Hub
Dalhousie Student Union Building,
Council Chambers
3:30-5:30 p.m.
Session 2: History and Commemoration
Dalhousie Student Union Building,
Council Chambers
6-8 p.m.
Session 3: Parks and
Plaza Design
Dalhousie Student Union Building,
Council Chambers
Wednesday, Sept. 26
1-3 p.m
Session 4: Design of Trails, Greenways
& Connection to Water
Dalhousie Student Union
Council Chambers
3:30-5:30 p.m.
Session 5: Streetscape
Features and Gateways
Dalhousie Student Union Building,
Council Chambers
6-8 p.m.
Session 6: Building Design
Rules
Dalhousie Student Union Building,
Council Chambers

Expo event

Registration not required

Friday,
Sept 28
noon-5 p.m.
View the design work created by the charrette
and provide feedback
Scotia Square,
Centre Court
Engagement Pop-ups
We want to meet with you, provide information about the project and get your input on two important aspects of the Cogswell District: public spaces and urban design rules for new buildings.
SHCC Family Fun Day




Friday, Aug.  10 from 10 a.m.-1 p.m.




Sackville Heights Community Centre, 45 Connolly Road, Lower Sackville

Musquodoboit Harbour Market




Sunday, Aug. 19 from 9 a.m-12 noon




67 Park Road, Musquodoboit Harbour

Alderney Farmers' Market




Saturday, Sept. 1 from 8 a.m.-noon




Alderney Landing, 2 Ochterloney Street, Dartmouth

Sunnyside Mall, Centre Court Community Booth




Friday, Sept. 7 from 4-7 p.m.




1595 Bedford Highway, Bedford

Cole Harbour Harvest Festival




Saturday, Sept. 8, from 10 a.m.-1 p.m.




Cole Harbour Place,  51 Forest Hills Parkway, Cole Harbour

North by Night Market




Saturday, Sept. 8 from 7-10 p.m.


Squiggle Park, 2050 

Gottingen Street, Halifax

Tantallon Public Library 




Sunday, Sept. 9  from 2–5 p.m.




3646 Hammonds Plains Rd, Upper Tantallon

Keshen Goodman Library




Friday, Sept. 14 from 1–4 p.m.




330 Lacewood Drive, Halifax

Spryfield Farmers' Market




Sunday, Sept. 16 from noon–3 p.m.




322 Herring Cove Road, Halifax

       
Our current engagement efforts have moved beyond the project's functional elements (streets, block configurations). We're now looking for your ideas and feedback about what we need to consider with the building designs and how public spaces in the Cogswell District should be used – including their look, feel and key features.
Building on public feedback we received in April 2018, the insights we're collecting now will inform the 90% design. Numerous themes will be explored:
Great streets

Neighbourhood connections

Parks and open space

Places for art and events

History and commemoration

Sustainability
With your input, we can lay the groundwork for a vibrant new neighbourhood that will serve the entire Halifax region as a catalyst for business, recreation, and tourism.
Some questions we'll be asking at engagements include:
When on a street, what design elements will make you stop here and hang out?

In parks and open spaces, what uses, and activities will each public place support and how can the design facilitate those experiences? What is the daytime versus evening experience? In sun, rain and snow?

Where should public art and key landmarks be located?

How should the area's history be commemorated (in place names, art, or other ways)?

What amenities will the Cogswell District offer and what activities will support people choosing to live here?
Past Cogswell Engagement
On May 16, 2013, an extensive public engagement program was hosted by Mayor Savage and the Strategic Urban Partnership coined the "Shake-Up". From that program, a Shake-Up Report was compiled with 10 proposed key aspirational themes to guide the project going forward.
Using feedback gathered from the Cogswell Shake-Up, the Cogswell Lands Plan–an extensive redevelopment plan for the district—was created.
As part of the 60% design process, the project team for the Cogswell District Redevelopment has  conducted extensive outreach to a  a wide range of  stakeholders including adjacent landowners, developers, special interest groups, utilities, and members of  the general public. The team is committed to an open dialogue to understand concerns and suggestions, as well as communicating project details and updates.
Seven public engagement sessions were held in April and May of 2018 to update and engage residents and stakeholders on the Cogswell District 60 per cent design plan. Input was sought on the public realm elements of the project: active transportation components, park and open spaces, elements of a proposed urban square, transit hub details and streetscape design details.
The team received 145 written comment cards from those who attended the series of seven engagement sessions. The Cogswell District Shape Your City website received 2,100 visitors with 628 online survey submissions.
An integrated communications strategy will ensure that property owners, stakeholders and general public are well informed about the progress of the initiative and will receive timely project and traffic updates as necessary.