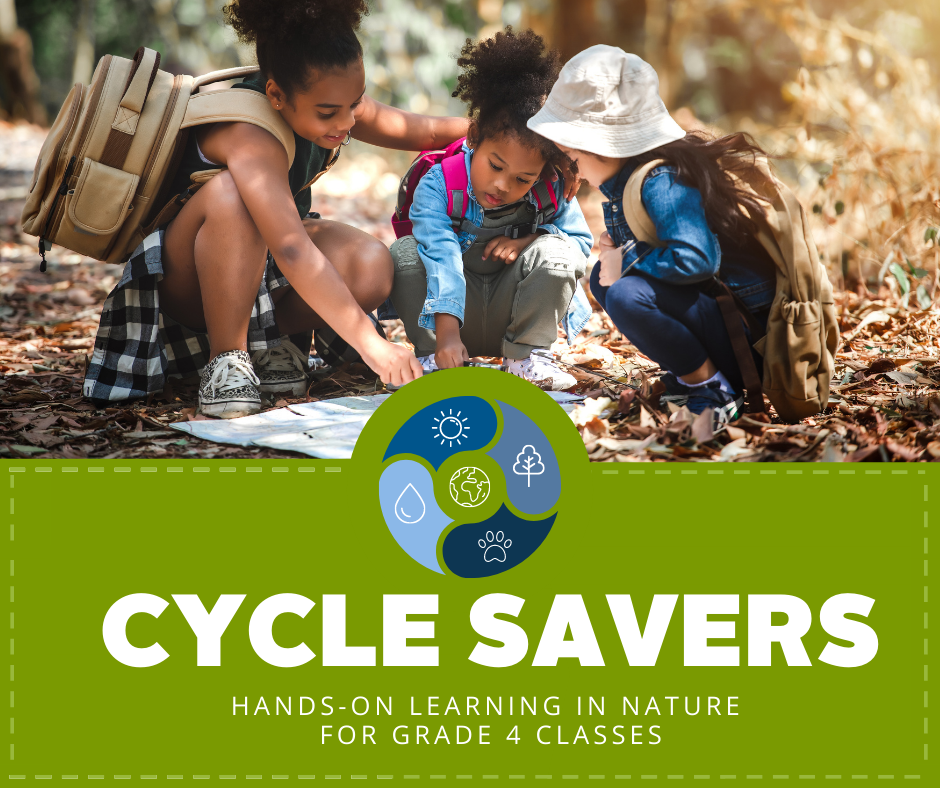 Cycle Savers is an intriguing, hands-on, earth education program for grade 4 students based on a mystery code and club theme. Students participate in challenges and then decipher secret codes to learn to appreciate, understand, and respect the cycles of life (air, water and soil cycles) through an experiential educational day trip at a local park or wooded area near their school. They returned home to complete the final code and discover how their household is affecting the environment and what they can do to make a difference. The program addresses the grade 4 science curriculum outcomes. Incorporated into this program is a leadership component for high school-aged volunteers. These youth receive a day-long training, and will lead the program along with our trained program staff, and supervised by the on-site program coordinator.
FOR YOUTH LEADERS:
We are looking for student leaders, aged 13 and up, with a positive attitude, energy and enthusiasm who are responsible and dependable with an interest in the environment and the natural world who enjoy working with children.
Students who participate will be required to attend the mandatory training day on Saturday, April 30th at the Adventure Earth Centre in Shubie Park, Dartmouth, from 9:00 am to 4:00 pm. You will then be scheduled to lead the Cycle Savers Program with Grade 4 students on 2 school days, of your choice, during May or early June.

To register for the training day, please email aec@halifax.ca

FOR TEACHERS:
Adventure Earth programs are operated by the Halifax Regional Municipality's Parks & Recreation department, and we have been delivering award winning programs for over 30 years. Our programs are based on "earth education" principles and focus on having people experience and appreciate nature, understand ecological concepts, and encourage people to take action to lessen their impact on the earth.
Cycle Savers includes pre-trip class preparations, a one-day outdoor adventure in a local park, and a series of follow-up activities to be completed at school and at home. Trained staff, supervised by an experienced coordinator, lead the outdoor adventure with small groups, utilizing a detailed curriculum designed by the HRM Adventure Earth Centre. Through the program, students…
Increase appreciation and wonder for the natural world and wild habitat.
Appreciate the importance and fragility of the air, water, and soil cycles for habitats.
Understand the basic components of the air, water, and soil cycles.
Assess their households' impact on the cycles and generate ideas to reduce it with their families.
Take practical steps in their lives to reduce their impacts on the three cycles.
Want more info? 
Call the Adventure Earth Centre @ (902) 490-4539 
or email aec@halifax.ca