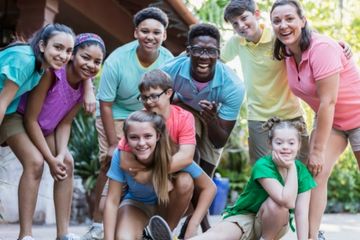 Ready for Rec programs are designed for children and youth who have diverse needs and require additional supports to be successful in a recreation environment. The focus is on accommodations, adaptations, and small participant to instructor ratios tailored to individual skills and learning styles.
Ready For Rec Fall 2022 Programs
We're pleased to offer Ready for Rec Outdoor Fun and Multi-sport programs again this season. To be added to our mailing list for program updates, please contact inclusion@halifax.ca. 
Multi-sport (ages 5-11)
Date: Begins Sept. 26, 2022
Time: 6:15-7 p.m.
Location: Eric Graves Junior High, 70 Dorothea Dr, Dartmouth
Course code: 00058982
Outdoor Fun
Date: Begins Oct. 15
Time: 9:30 a.m. - 12:30 p.m.
Location: Shubie Park, 54 Lock Rd Dartmouth
*Please contact inclusion@halifax.ca to be added to our waitlist
More Information
If you require more information about inclusion and accessibility in recreation programming, please visit halifax.ca/RECinclusion, contact your local Community Recreation Centre or the Inclusion and Access Specialist at Inclusion@halifax.ca or 902-490-4410.