Remembering the Joseph Howe Festival, 1973-1985
February 15, 2016 marked the second annual Nova Scotia Heritage Day, honouring the famed Nova Scotian, Joseph Howe. For 12 years, the City of Halifax dedicated a week-long festival to celebrating the achievements of this great politician, writer, and orator. Information on this annual event comes from the records of the Joseph Howe Festival Society held at the Municipal Archives.
The Joseph Howe Festival was a public festival held in Halifax from 1973-1985. The festival was organized by the Joseph Howe Festival Society and was usually held in early autumn. At its peak in 1983, 15,000-20,000 individuals attended 65 different events.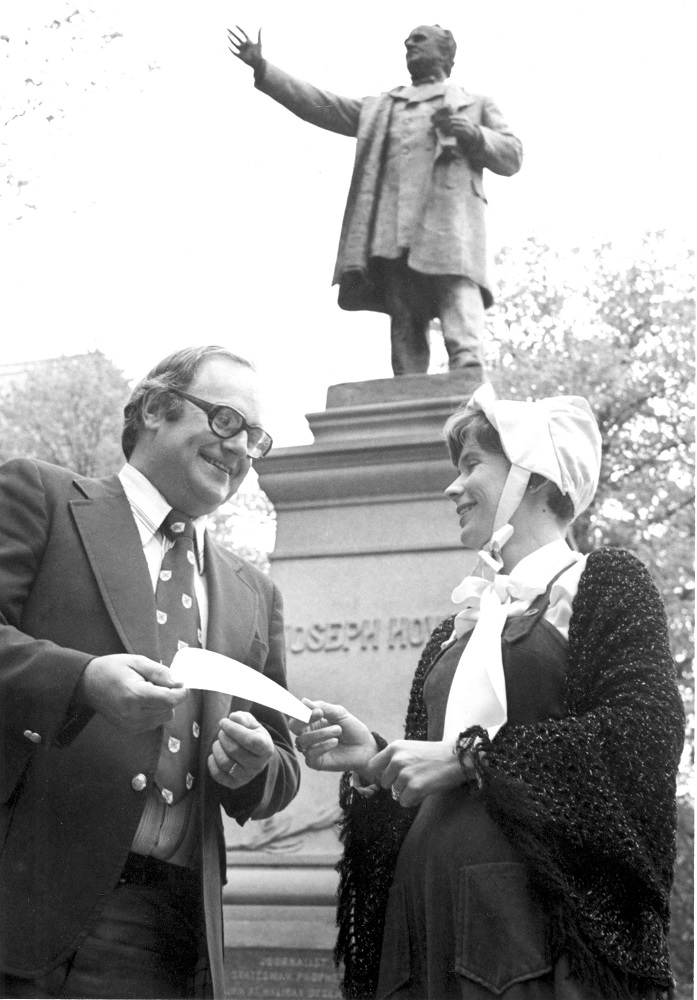 City of Halifax Mayor Walter Fitzgerald presenting a cheque to Festival Vice-President Carolyn Amirault, in front of the Joseph Howe statue in the courtyard of Province House, 1978 (HMA 102-107-1-3-18).
The Festival aimed to familiarize the community with and honour this great Canadian who was instrumental in winning freedom of the press and responsible government in Canada. The Festival also sought to spark community spirit, provide entertainment and education, as well as promote an interest in tourism to Nova Scotia outside of peak tourism months.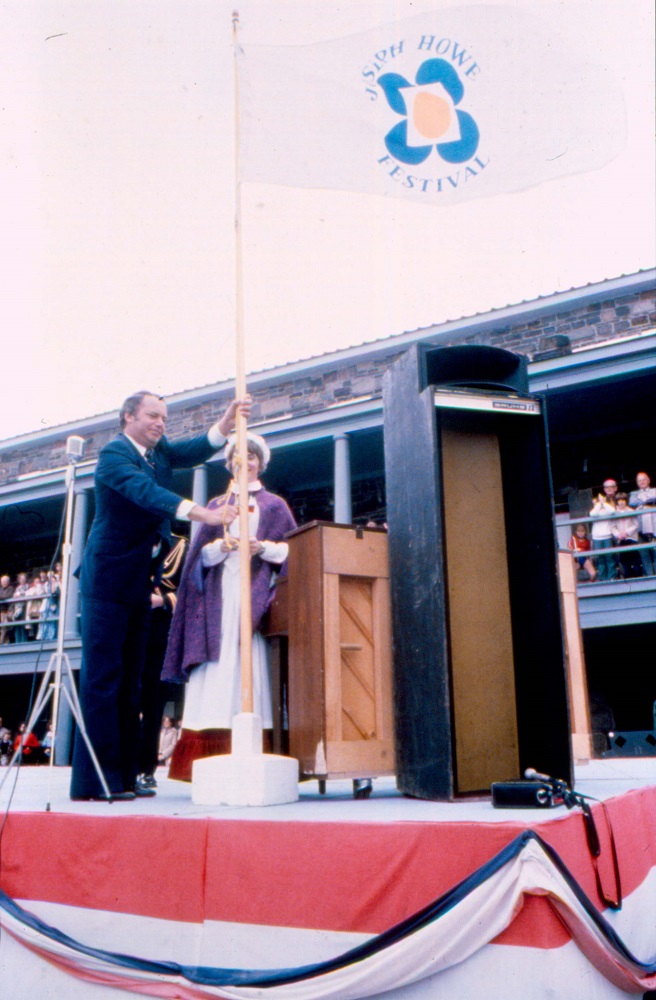 In its early years the Festival attracted many families, with the majority of attendants being young children and their parents. In the early 1980's organizers pushed to make the festival more inclusive and evolved to include events that would appeal to more age groups.
After its heyday in the early 1980s, public enthusiasm dwindled. In 1986, after much discussion, analysis and research, organizers attempted to re-kindle a festival under the name of "Halifax Harbourfest," with emphasis shifted away from Joseph Howe to more waterfront-oriented events.
The City of Halifax, which had traditionally supported the festival, did not agree with this change in direction as events were not scheduled to take place throughout the entire city. This lack of funding, time, and human resources meant that organizers had to cancel events for 1986.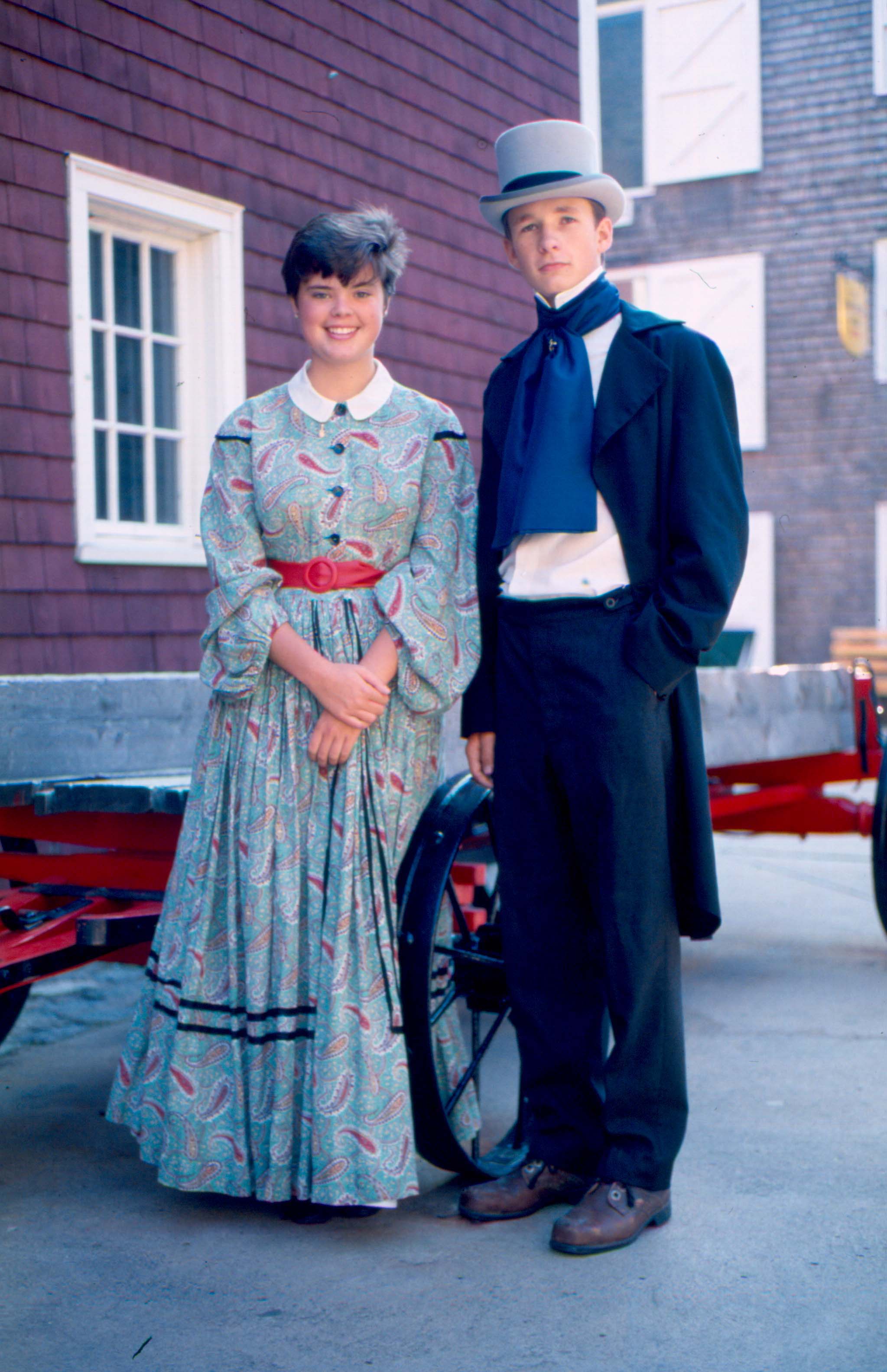 For many years an Oratorical Contest was held throughout local High Schools to determine who would attend festival events as "Young Mr. and Mrs. Joseph Howe." This event highlighted Joseph Howe's famed skills as a public speaker.
Since Howe became a member of the Legislature in 1836 and then Premier of Nova Scotia from 1860 to 1863, Mr. and Mrs. Joseph Howe and many festival-goers dressed in Victorian-era costumes for festival events. Dressing up in costume was popular in the early years of the Festival and the Society distributed a booklet with costume guidelines for those wishing to make their own costumes.
Other Festival events over the years included costume promenades, Whaler Races, horse races, dances, Beerfest, casino nights, bingo nights, children's festivals, bike races, road races, art shows and galleries, craft and farmers markets, sporting events, and town criers.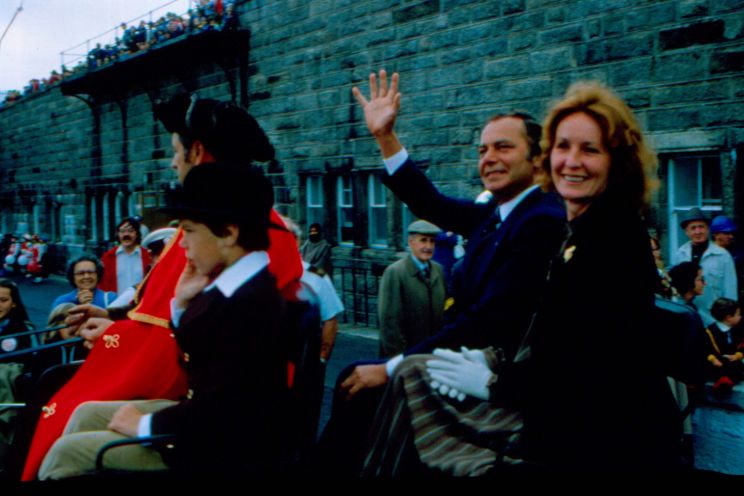 Governor General Edward Schreyer and his wife Lily Schreyer at the Joseph Howe Festival Opening Ceremony, 1979. HMA 102-107-1-1-9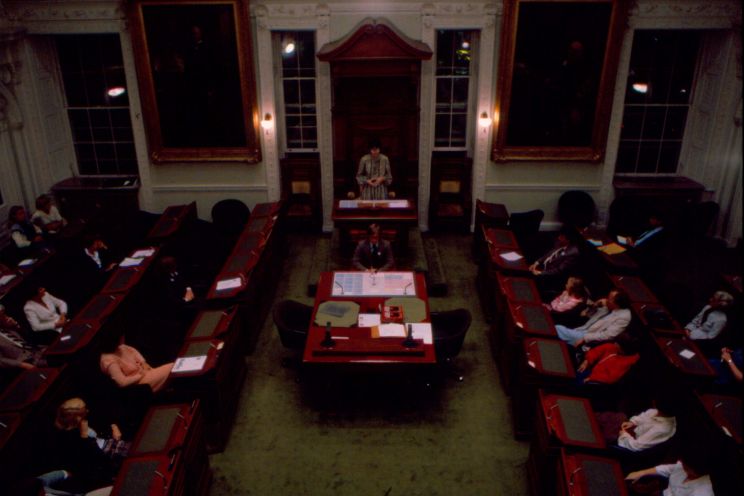 Spectators and participants at the Oratorical Contest held at Province House, 1981. HMA 102-107-1-1-11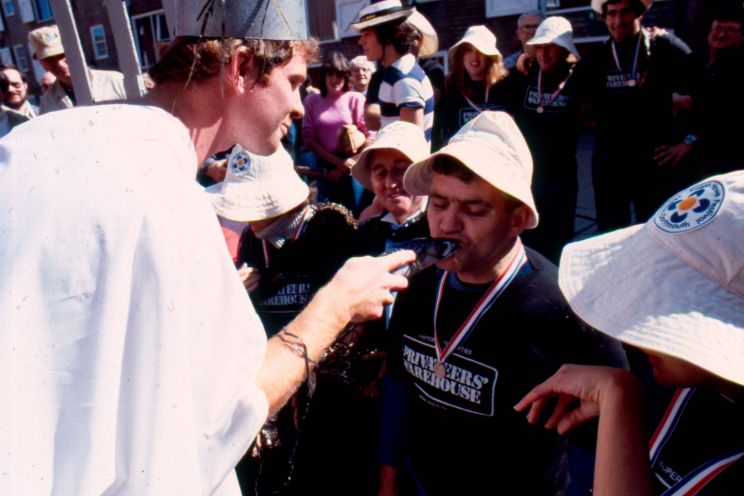 Whaler Race participant kissing the fish offered by King Neptune in the Whaler Race Initiation Ceremony, [198-?]. HMA 102-107-1-1-2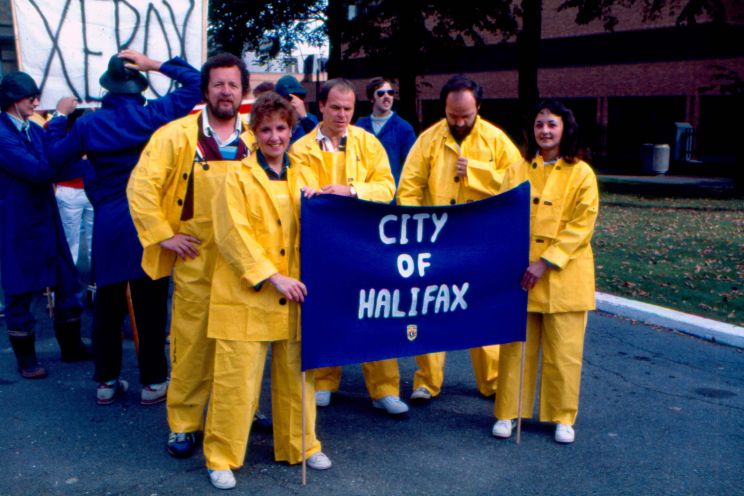 City of Halifax Whaler Races Team line up with the team from Xerox for the Whaler Parade, [198-?].HMA 102-107-1-1-3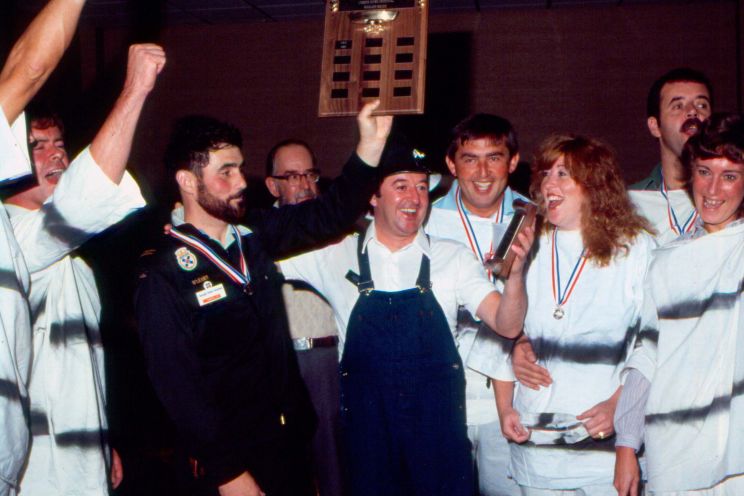 Whaler Races Team celebrating their win, [198-?]. HMA 102-107-1-1-4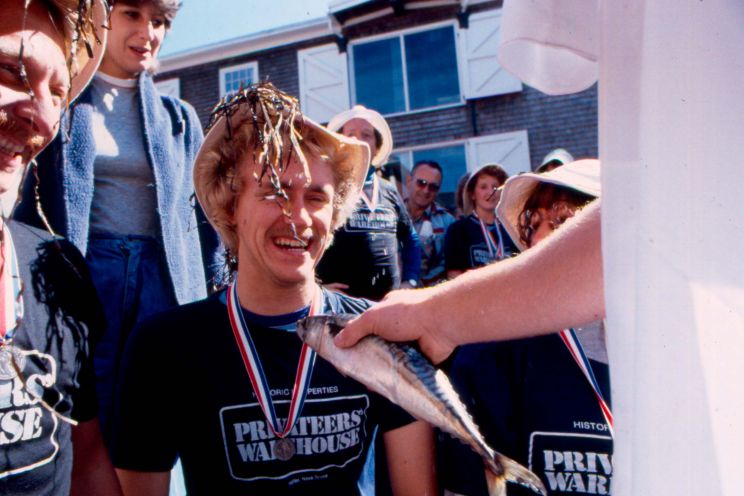 Whaler Races King Neptune Initiation Ceremony, [198-?].HMA 102-107-1-1-6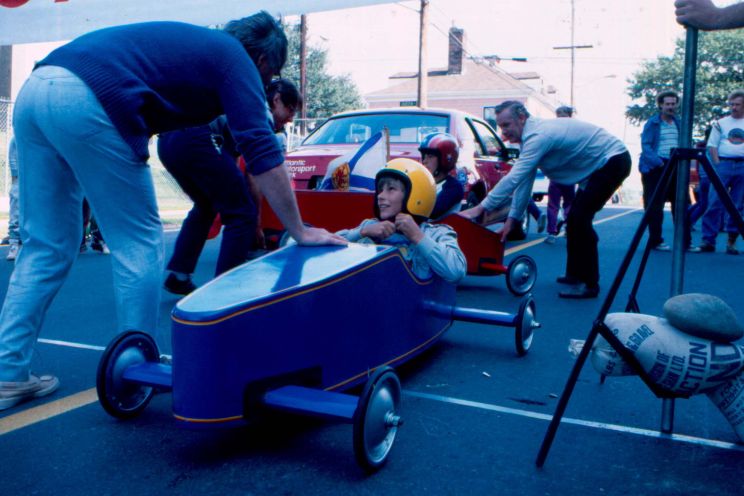 Soap Box Derby, which was often held on South Street, 1973-[198-?]. HMA 102-107-1-1-7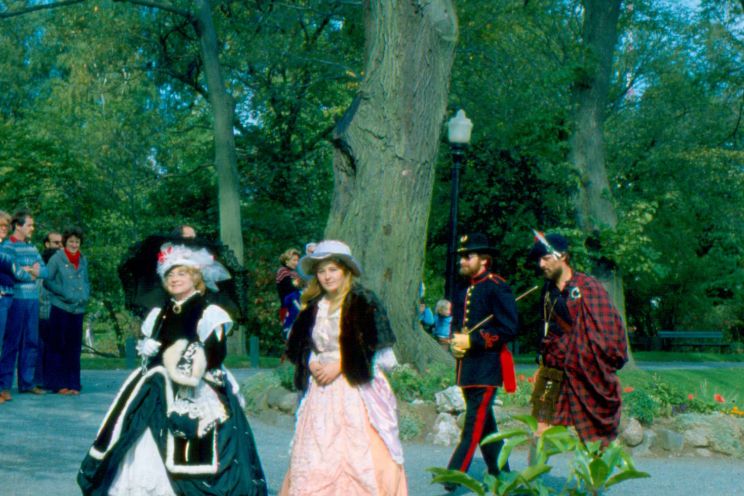 Festival goers dressed in period costume in Public Gardens, [197-?].HMA 102-107-1-1-8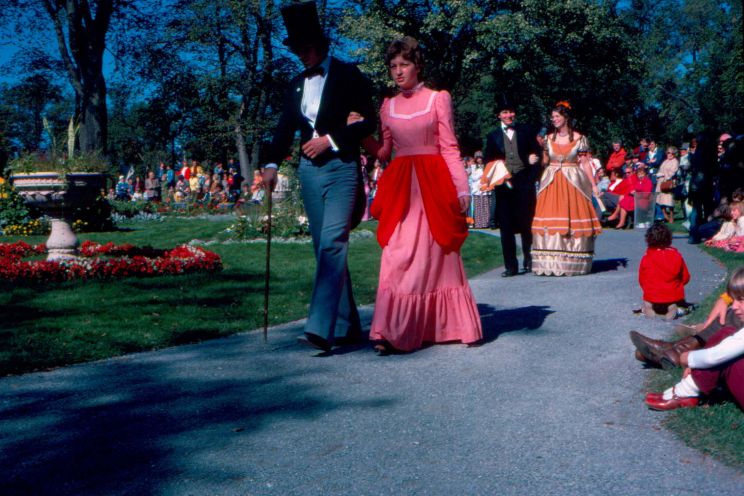 Participants in the Costume Promenade event, 1976. HMA 102-107-1-1-10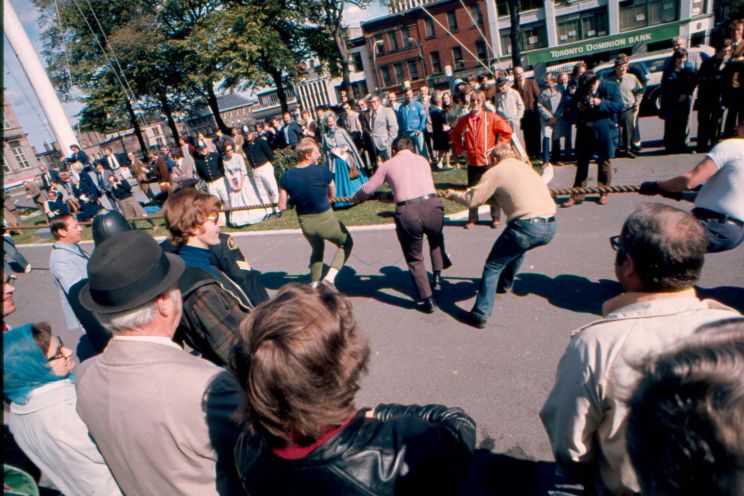 Tug of War event on the Grand Parade, 1974. HMA 102-107-1-1-12
Whaler Race heading out past George's Island in the Halifax Harbour, [198-?] . HMA 102-107-1-1-13
Mrs. and Mr. Joseph Howe at the President's Brunch with the Festival's Town Crier contestants, 1985. Photography by Stephen A. Korman. HMA 102-107-1-3-2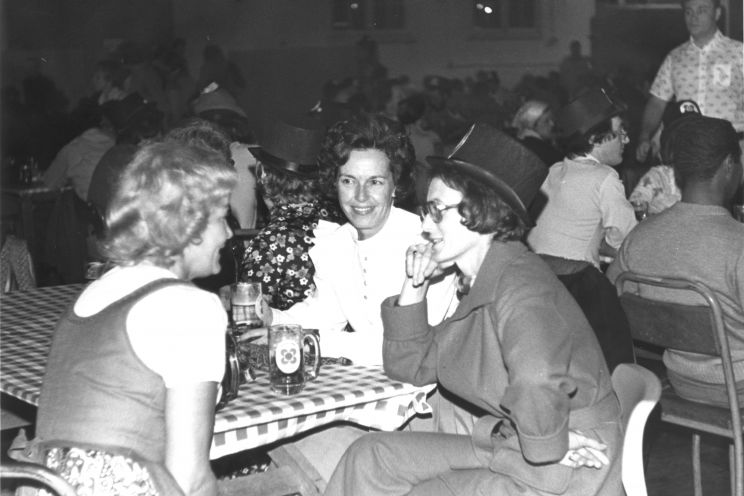 Festival goers at the annual Beerfest Event, which over the years was held at the Halifax Armoury, and the Metro Centre, [197-?]. HMA 102-107-1-3-34-1. Photography by Westhaver-Wilmott.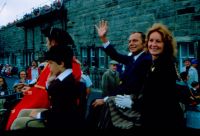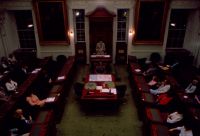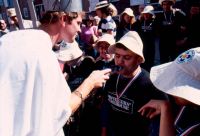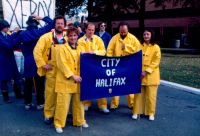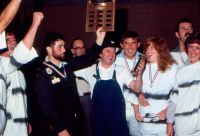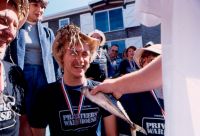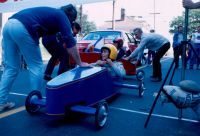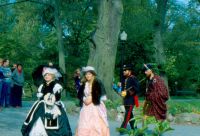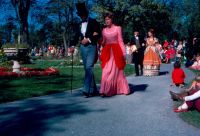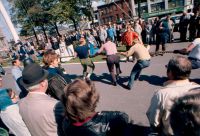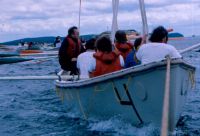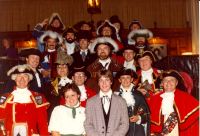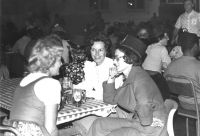 Joseph Howe Trade Dollars

The Festival Society produced commemorative coins known as "Joseph Howe Trade Dollars," beginning in 1975.
In the months leading up to the fall festival, these coins were legal currency in Halifax and Dartmouth, worth the equivalent of one dollar. Banks and retailers sold the coins and after the Festival the coins were retired, many kept as souvenirs, some purchased by collectors. The sale of trade dollars operated as the main source of fundraising for the Festival.
Each year the festival took on a different theme including "Citizenship and Howe," "The Gathering of the Clans," "The Pony Express," and "Canada's Navy."
The Trade Dollar was minted each year to feature Joseph Howe on one side and the annual theme on the other. See the Pony Express image on this advertisement from 1976.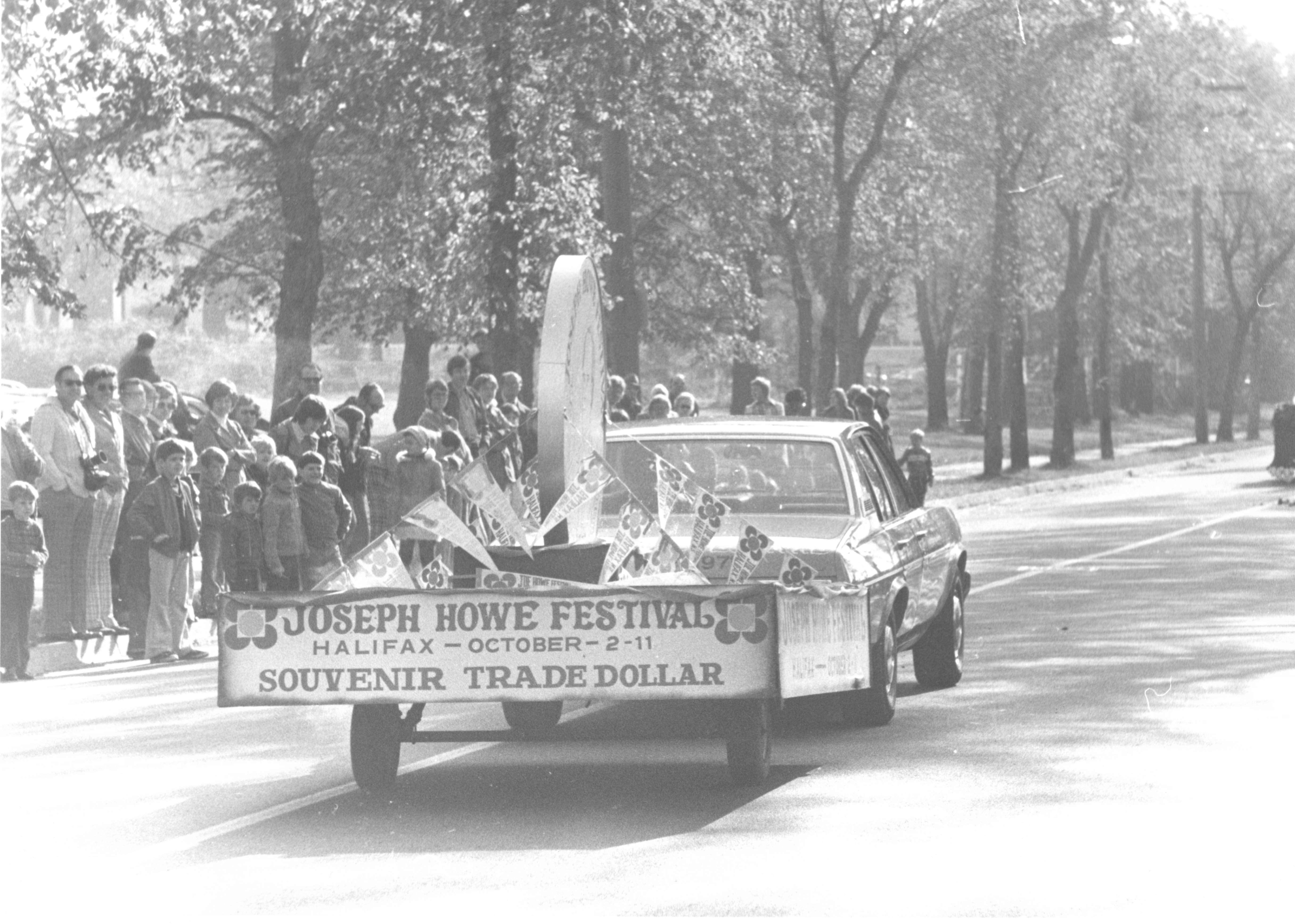 Family Connection to Joseph Howe:
The great grand-daughter of Joseph Howe, Mrs. Dorothy Howe Wilson was the guest of honour at the 1977 and 1978 Festivals. She returned to Nova Scotia from the UK to attend various festival events.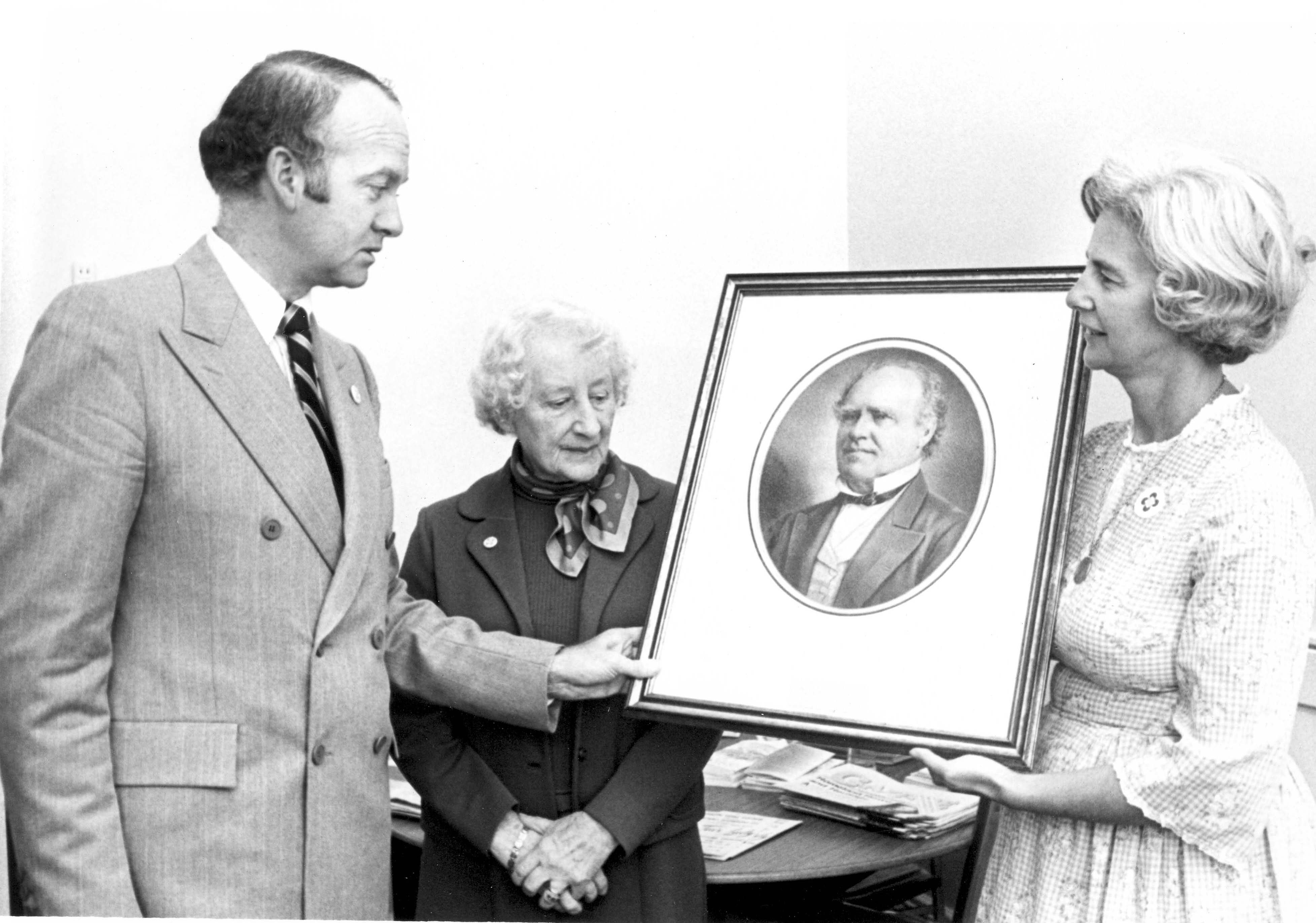 Presentation of a portrait of Joseph Howe to Mrs. Howe Wilson. Pictured left to right: Allison Bishop, Director of Cultural Affairs for the Province of Nova Scotia; Dorothy Howe Wilson, great-granddaughter of Joseph Howe; and Joan Fraser, President of the Joseph Howe Festival Society. September 1978.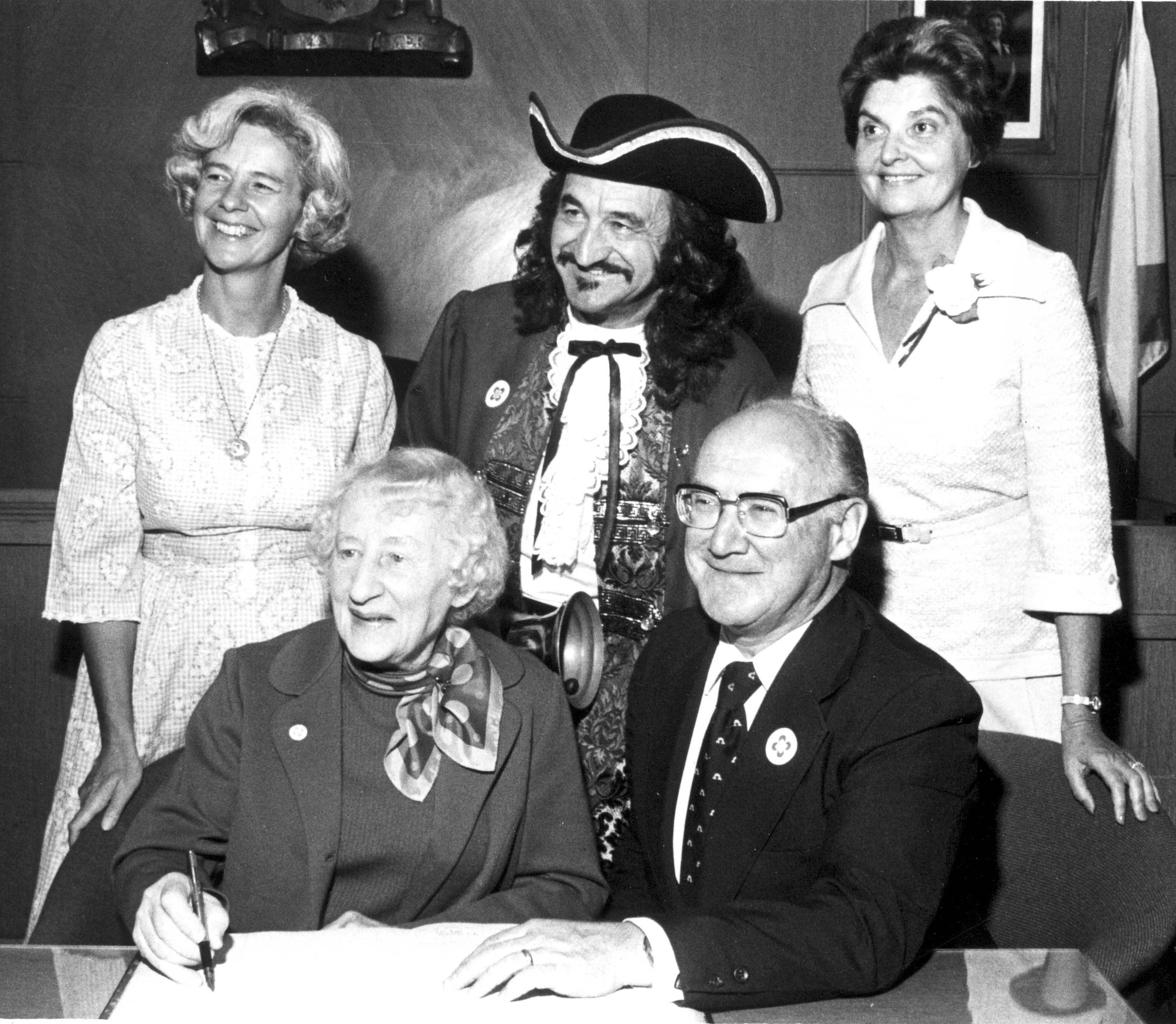 Ceremony in the Council Chambers of City Hall.  Pictured left to right, top to bottom: Joan Fraser, President of the Joseph Howe Festival Society; a Bermuda Town Crier; Bernice Sullivan; Dorothy Howe Wilson: great granddaughter of Joseph Howe; and Mayor Edmund Morris. September 1978.
More on the Joseph Howe Festival:
The Municipal Archives holds 4 boxes of textual records and over 1,000 photographs from the Joseph Howe Festival Society (102-107). Through reports, minutes, photographs, and correspondence, these records document the history and evolution of the Festival, the individuals involved and the events that took place. Come to the Archives to view the Society records if you'd like to see more. If you used to be involved with the Society, we'd love to hear from you to help identify photos, or provide more documentation.
Halifax Municipal Archives acknowledges funding provided through the Nova Scotia Department of Communities, Culture and Heritage Provincial Archival Development Program to make this exhibit possible. Their support funded the archival processing of 400 boxes of Mayor, CAO, Clerk's records, as well as the records of the Joseph Howe Festival Society.