In February 2010, Mayor Peter Kelly formally apologized to the former residents of Africville. (see details of the Apology and Agreement).  In this Research Guide, the Municipal Archives highlights records that document the City's interaction with the small but hugely symbolic African Nova Scotian community on its "northern slope".
Municipal records tell part of the story of Africville's relationship with the City of Halifax. These records capture an image of our past as seen through the lens of municipal staff and officials, but also through the experience of citizens, as represented in letters, petitions, surveys, participation in committees and public hearings - these too are part of the municipal record.
But city records are only part of Africville's story.  A fuller story of Africville is told through the many sources available; some recorded, some passed from generation to generation, some still being created.  See below for links to Sources at Other Repositories.  The Africville Story lives on.
Historical Municipal Sources on Africville
The Municipal Archives provides access to many records and secondary sources about Africville.  View some samples of the records - others can be scanned by request - all can be viewed at the Archives.
City Council Minutes and Submissions, 1841-1996 (102-1A&B)
The City's interaction with the community of Africville leaves a trail of evidence in City Council minutes.  From the first mention of Africville in 1867, to petitions for better services (such as in 1895 for water service on the Campbell Road), to Regional Council's historic reparation agreement in 2010, Council minutes help track the demand for public services in Africville, the City's response, public health and welfare issues, urban renewal plans, expropriation negotiations, relocation issues, and finally the struggle for reparations.
The Search tools; Africville resources document includes a sample of Council minutes from 1960s about Africville.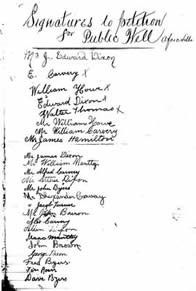 1909 Petition to Council for a Community Well
Click on image to view the entire 1909 petition to Council for a community well signed by Africville residents J. Edward Dixon, E. Carvery, William Howe, Edward Dixon, Walter Thomas, William Howe, William Carvery, James Hamilton, James Dixon, William Mantley, Alfred Carvery, Arthur Dixon, John Byers, Alexander Carvery, Jacob Turner, John Barron, Alex Carvery, Allen Dixon, Isaac Mantley, John Brown, George Dixon, Fred Byers, Fin Roan and Dave Byers.  Report to Council includes the City Engineer's response and the Committee on Works recommendation to undertake the work, which was approved by Council on Sept. 23, 1909. [HRM Archives file 102-1B-1909-09-23.363]
 
Halifax Advisory Committee on Human Rights records, 1954-2004, (CR 5)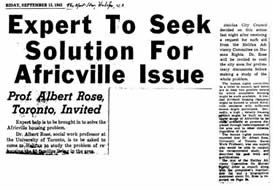 Minutes, reports, correspondence, surveys and news clippings from this volunteer citizens' group which was formed in 1962 to act as an advisory committee for the interests of the people of Africville and to monitor and protect their rights during the relocation of Africville by the City of Halifax in the 1960s. Donated by committee members Gus Wedderburn and Donald Maclean.

Examples from files:
1963 statement presented from the Advisory Committee to City Council stating that extraordinary measures were needed for Africville, and recommending Dr. Rose be hired to study the community [CR 5.21.].
1963 letter from Alan Borovoy, well-known civil rights activist, then executive secretary of the Toronto District Labour Committee for Human Rights, offering strategic advice to the Halifax Advisory Committee on Human Rights [CR 5.20.].
City Manager's Office correspondence files: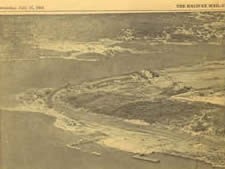 The City Manager was the top bureaucrat in city government and kept files on any significant issues. These three files on Africville are rich in documentation, including the plans listed below. These files are not yet digitized but can be requested or viewed at the Municipal Archives.
Africville, 1954-1965 (102-4A.5)
Africville Lands, 1969-1971 (102-4A.124)
Africville, Ex-Africville Residents, 1968 (102-4A.129)
[102-4A.5.D8620] Development Officer R.B. Grant's 1962 response to questions raised by Africville residents at initial discussions about relocation and expropriation.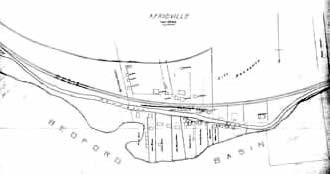 City Council approved the creation of a public park on part of the former Africville in 1979. Named Seaview Park it did not officially open until 1985. This reference file created by the City of Halifax Planning Department compiles the council minutes and reports re. the design and later developments in the Park, as well as news clippings about the Park's opening, opposition to the Park, and the further development of a boat launch and service road to the Fairview Cove (Ceres) container terminal. Click here to view a scan (pdf) of the entire file.
Plans from City Managers' Africville files (102-4A.5)
List of plans:
102-4A.5.3 - [Africville], 1916/10/25 (date of base map, with later additions): showing land ownership and property boundaries
102-4A.5.1 - [Africville], no date: showing proposed land ownership and acreage of land and water access.
102-4A.5.2a+b – Africville, no date: showing buildings with names of owners/residents, rail-lines, planned streets and elevations.
102-4A.5.5a+b - Africville, no date: showing dwellings with names of owners/residents, buildings.
102-4A.5.4 P 700/58 - Africville, no date: showing existing houses (numbered), roads, buildings and railway lines.
Redevelopment Committee's Africville Sub-committee records, 1963-1968 (102-42C)
Minutes, correspondence and reports of the sub-committee which advised Council on how to implement the relocation of Africville residents.

City Clerk's Office reference file on Africville, 1965-1994
102-5-1-44 - 14MB pdf- click to view scanned copies of newsclippings, reports, minutes, including a chronology of Council minutes related to Africville from 1962-1966 and an overview of Africville history written by Don Clairmont in 1990.
Photographs of Africville
A compilation of images of Africville from four different series: Engineering and Works Department photographs (102-39-1), Halifax Police Department photographs (102-16N), Safety Committee Minutes (102-38-1), and Halifax Fire Department photographs (102-111-4). The views include several houses in Africville and the Africville area (Round the Bend), the Seaview Baptist Church, Tibby's Pond, and the City Dump. The images are ordered chronologically although precise dates for many are not known. If you can identify any of the houses in the images or when the photographs were taken, please contact the Archives: archives@halifax.ca.
The Master Plan for the City of Halifax (711.45.H17)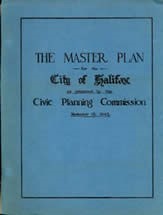 Civic Planning Commission, 1945  (711.45.H17)
The City of Halifax's first effort at planning, recommends removal of "Africville Settlement", providing residents "with a decent minimum standard of housing elsewhere" , and residential development of the Northern Slope of the city.
The section dealing with Africville is section IV Proposal 14.
 
A redevelopment study of Halifax, Nova Scotia, 1957 prepared for City Council by Gordon Stephenson (711.45 .S8).

The Stephenson Report recommended a programme of urban renewal for Halifax including removal of the Africville "slum".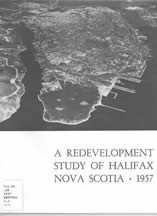 Report of a visit to Halifax with a particular respect to Africville by Dr. Albert Rose, 1963, City of Halifax Council submission,  Dec. 12, 1963, 102-1B.
The Rose Report recommended expropriation with full compensation and assistance with relocation.  It was ratified by Council and the Halifax Advisory Committee on Human Rights and set the City on a course of clearance and relocation.
Building Permits for Africville, 1906-1949 (102-39I-29)
Record of applications for building permits for new construction or renovations in Africville. The applications give the location of the construction, name of owner, date of application, name of architect, builder, estimated cost, type of building, and construction details. Building Inspectors, health inspectors, etc., would review applications and either issue a permit or not. Some applications have comments from the building inspectors, justification for not issuing permit, or letters of authorization from the building owner.
Public Health and Welfare Committee minutes
The city committee responsible for local public health and welfare dealt with many Africville files:
Africville -Wells, 1947;
Permit Application - Barrington Street - Africville, 1948;
Building Permits - Africville, 1949;
Africville - Condemned Premises, 1951;
Permit Application - Pigs - Africville, 1951;
Africville Privy, 1954;
Africville - Garbage Permit, 1955;
Permit Application - Africville, 1957;
Africville District - Paratyphoid, 1962;
Africville - Residence Unfit for Human Habitation, 1967;
Board of School Commissioner records, 1865-1995 (102-53)
Planning Department's reference file on Seaview Park, 1981-1991 (102-105-3)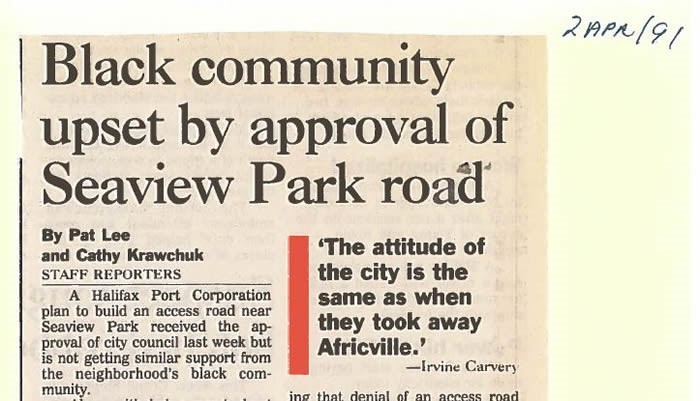 City Council approved the creation of a public park on part of the former Aficville in 1979. Named Seaview Park it did not officially open until 1985. This reference file created by the City of Halifax Planning Department compiles the council minutes and reports re. the design and later developments in the Park, as well as newsclippings about the Park's opening, opposition to the Park, and the further development of a boat launch and service road to the Fairview Cove (Ceres) container terminal. Click here to view a scan (pdf) of the entire file.

City Engineer's Office plans, 1898-1968 (102-39P)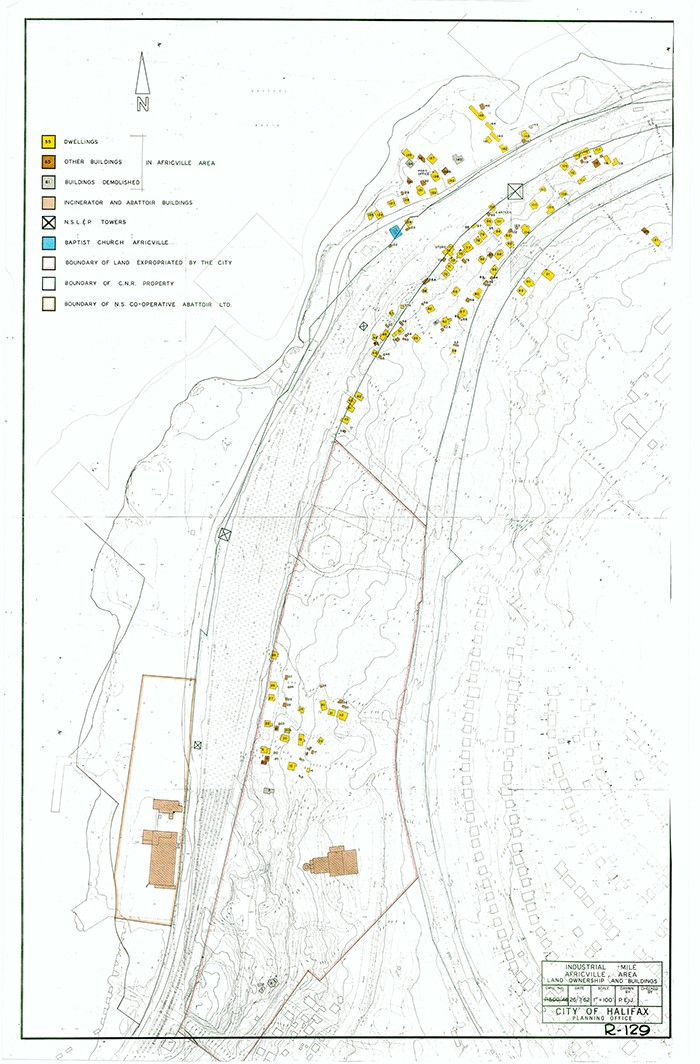 Maps and plans in this series relating to Africville include:
D-1-626: Old Campbell Rd., [after 1870]
P-5-1275: CNR - Eastern Oil Co. proposed siding to new warehouse near Africville, 1898/11/17 - also shows necessary road diversion
G-2-1260: Plan showing proposed oil siding and rail diversion at Africville for Imperial Oil Co. Ltd. to accompany agreement submitted to City Council, 1899/08/15, [available only on microfilm]
R-6-1528: CNR Plan showing proposed location for 30 stall Engine House at Africville also diversion of Public Highway from above location (Old Campbell Rd), 1903/08/31
K-7-1584: CNR - Proposed siding to new warehouse near Africville, 1904/07/05 - showing necessary road diversion [available only on microfilm]
O-1-1830: Plan of Africville, 1908/02/27
O-4-4033: Africville Plan showing lots acquired from Tully to accompany report on application of McKeen for lot, [190?] - [available only on microfilm]
HH-5-7598: Africville - Plan of 8 Water Lots on Campbell Rd (of part of Estate George Drillio), [1917?]
HH-5-7597: Contour and Regular Plan - Water Lots at Africville Now Belonging to City (Tully Estates), 1917/07/18
G-4-3465: Plan - Numbering - Campbell Rd. west, [ca. 1931] - [available only on microfilm]
DD-4-8154: Africville Area - Numbering Plan, 1935/04/10 - shows buildings and lists owner/tenant
FF-3-12006: Two drawings which show the elevation of city property north of Forrester Street; includes CN tracks and Africville, Halifax, N.S., [before 1964]
JJ-6-8966: Plan And Profile - proposed diversion through Africville, 1941/04/04
KK-6-9073: C.N.R. expropriation at Africville, 1941/07/10
KK-7-9117: CNR Expropriation Imp Oil Ltd and Levi Hart Lands - Africville, 1941/04/25
KK-7-9124: CNR to accompany deed to the King - Land near Africville, 1941/06/06
KK-7-9114: Halifax Lighterage Piers by CNR - Africville, 1942/04/23
MM-1-9637: Africville - Proposed Sewer and water, 1944/10/26
QQ-4-11913: Africville Sketch of North End of Halifax (Dickey Sketch), [19??]
QQ-4-11974: Bedford Basin - Land Reclamation, 1951/11/12
QQ-6-12209: Africville Plan of land to be leased to George Grant, [19??]
RR-8-13932: National Harbours Board - Halifax Harbour Development General Plan Pier 9 To Fairview, 1956 - identifies property owners and dates and numbers of land grants for the Bedford Basin shoreline and Africville, location of buildings (including slaughterhouse and Jewish poultry killing plant, Irving Oil), garbage dump, tug wharf, railway, streets, piers
Secondary Sources:
A history of marginalization - Africville: a Canadian example of forced migration, unpublished thesis by Mary Pamela Vincer, 2008 (971.6225 .V5 REFCOLL)
Africville: Can't Stop Now, 2009 documentary directed by Juanita Peters follows the personal stories of members of the Carvery family dealing with the Africville legacy.
Africville : The life and death of a Canadian black community by Donald H. Clairmont and Dennis William Magill, 1987, 1999 (971.6225 C REFCOLL)
Africville: A spirit that lives on Exhibition publication by Mount St. Vincent University Art Gallery, 1989 (971.6225 S REFCOLL)
Africville Relocation Report by Donald Clairmont and Dennis Magill, 1971
From Africville to New Road: How four communities planned their development by Althea J. Tolliver and James A. Francois, 1983 (397.14 T REFCOLL)
The Condition of the Negroes of Halifax City, Nova Scotia, Dalhousie University Institute of Public Affairs, 1962 (305.8 C REFCOLL)
Nova Scotian Blacks: An Historical and Structural Overview by Donald H. Clarmont and Dennis W. Magill, Dalhousie Institute of Public Affairs, 1970 (971.6 .C5 REFCOLL)
The Spirit of Africville by Charles Saunders et al, 1992 (971.6225 S)
The women of Africville: Race and gender in postwar Halifax thesis by Susan Marion-Jean Precious, 1998 (305.4 .P7 REFCOLL)
Our Roots: Canada's Local Histories On-line has made of some of these volumes available on the internet.
Primary Sources about Africville at other Repositories:
Africville Genealogy Society - on-line gallery of images, audio and visual recordings of Africville residents.
Black Cultural Centre for Nova Scotia - African Nova Scotian Museum/Library Resource Centre that protects, preserves and promotes Black Culture in NS.  Exhibit "Africville: The Spirit Lives On" upstairs in the Museum.
CBC Digital Archives - radio and television broadcasts about Africville and the battle for compensation
Dalhousie University Archives and Special Collections:
Dalhousie's Institute of Public Affairs conducted detailed studies about Africville and the Relocation.  The Institute's research files are a rich source; however most files are closed until 2040; a file-listing will be made available but meantime, contact Dalhousie Archives for details.
Library and Archives Canada:
Ted Grant's views of Africville, 1965 (R11502-0-1-E) National Film Board photojournalist's images of Africville.
David S.H. MacDonald's Early Church and Ministry file on Africville (R12287-1-8-E) United Church minister's file.
National Film Board of Canada:
Remember Africville, 1991 documentary directed by Shelagh Mackenzie
Nova Scotia Archives and Records Management:
Bob Brooks photographs of Africville, 1962-1965  Gone But Never Forgotten -  virtual exhibit of 60 images by photojournalist Bob Brooks
African Nova Scotians in the Age of Slavery and Abolition - on-line exhibit
Africville Genealogical Society records: (folder of correspondence and notices, 1981-1983 (MG 20 vol. 1290 no. 4)
maps, photographs, newspaper articles
Vaughan Memorial Library - Acadia University - Atlantic Baptist Archives hold the records of the African United Baptist Association, but unfortunately no records from Africville's Seaview Baptist Church are known to have survived
For more details on any of this material, contact the Municipal Archives.